Intertek Gp Plc (OTCMKTS:IKTSY) Receives Average Recommendation of "Hold" from Brokerages
Intertek Gp Plc (OTCMKTS:IKTSY) has earned an average recommendation of "Hold" from the nine research firms that are covering the company, Marketbeat Ratings reports. Two research analysts have rated the stock with a sell recommendation, three have issued a hold recommendation and four have given a buy recommendation to the company. The average 1 year price objective among brokers that have issued ratings on the stock in the last year is $62.00.
Separately, Zacks Investment Research upgraded Intertek Gp Plc from a "sell" rating to a "hold" rating in a report on Wednesday, April 19th.
Shares of Intertek Gp Plc (OTCMKTS IKTSY) opened at 61.40 on Tuesday. The company has a 50-day moving average of $55.85 and a 200 day moving average of $50.55. Intertek Gp Plc has a 52-week low of $39.25 and a 52-week high of $61.40. The firm has a market cap of $9.88 billion, a P/E ratio of 27.97 and a beta of 0.88.
COPYRIGHT VIOLATION WARNING: "Intertek Gp Plc (OTCMKTS:IKTSY) Receives Average Recommendation of "Hold" from Brokerages" was originally published by American Banking News and is the property of of American Banking News. If you are viewing this piece on another publication, it was stolen and republished in violation of international copyright and trademark law. The original version of this piece can be viewed at https://www.americanbankingnews.com/2017/08/08/intertek-gp-plc-otcmktsiktsy-receives-average-recommendation-of-hold-from-brokerages.html.
Intertek Gp Plc Company Profile
Intertek Group Plc provides quality and safety solutions to various industries worldwide. It operates in three segments: Products, Trade, and Resources. The Products segment offers assurance, testing, and inspection and certification services (ATIC), including laboratory safety, quality and performance testing, second-party supplier auditing, sustainability analysis, products assurance, vendor compliance, process performance analysis, facility plant and equipment verification, and third party certification services.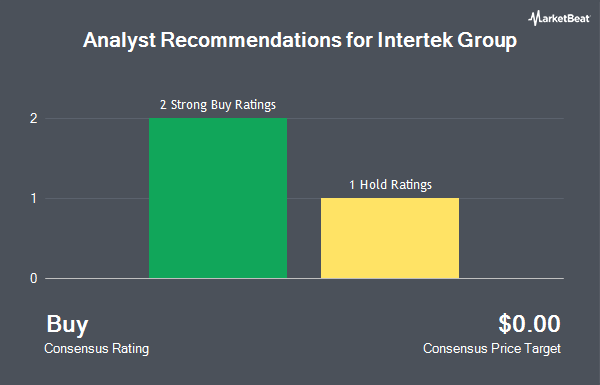 Receive News & Ratings for Intertek Gp Plc Daily - Enter your email address below to receive a concise daily summary of the latest news and analysts' ratings for Intertek Gp Plc and related companies with MarketBeat.com's FREE daily email newsletter.