Loews Corporation (L) to Issue $0.06 Quarterly Dividend
Loews Corporation (NYSE:L) declared a quarterly dividend on Tuesday, August 8th, RTT News reports. Stockholders of record on Wednesday, August 30th will be given a dividend of 0.0625 per share by the insurance provider on Tuesday, September 12th. This represents a $0.25 dividend on an annualized basis and a dividend yield of 0.51%.
Loews Corporation has a payout ratio of 8.1% indicating that its dividend is sufficiently covered by earnings. Research analysts expect Loews Corporation to earn $3.23 per share next year, which means the company should continue to be able to cover its $0.25 annual dividend with an expected future payout ratio of 7.7%.
Loews Corporation (NYSE:L) traded down 0.06% on Tuesday, hitting $48.99. The stock had a trading volume of 277,197 shares. The company's 50 day moving average is $47.44 and its 200 day moving average is $46.94. Loews Corporation has a 12-month low of $39.71 and a 12-month high of $49.27. The firm has a market cap of $16.49 billion, a PE ratio of 14.48 and a beta of 0.71.
Loews Corporation (NYSE:L) last posted its quarterly earnings data on Monday, July 31st. The insurance provider reported $0.76 EPS for the quarter, meeting the consensus estimate of $0.76. The business had revenue of $3.36 billion for the quarter. Loews Corporation had a net margin of 8.44% and a return on equity of 4.84%. During the same period in the prior year, the firm posted $0.59 earnings per share. On average, equities research analysts expect that Loews Corporation will post $3.17 EPS for the current fiscal year.
ILLEGAL ACTIVITY NOTICE: This report was originally posted by American Banking News and is the sole property of of American Banking News. If you are accessing this report on another domain, it was illegally copied and reposted in violation of US & international copyright & trademark law. The correct version of this report can be accessed at https://www.americanbankingnews.com/2017/08/08/loews-corporation-l-to-issue-0-06-quarterly-dividend.html.
L has been the topic of several research reports. Zacks Investment Research raised shares of Loews Corporation from a "sell" rating to a "hold" rating in a research report on Wednesday, August 2nd. BidaskClub cut shares of Loews Corporation from a "hold" rating to a "sell" rating in a research report on Saturday, June 24th. Finally, Jefferies Group LLC reaffirmed a "sell" rating and issued a $35.00 price objective on shares of Loews Corporation in a research report on Tuesday, June 6th. Two research analysts have rated the stock with a sell rating, two have assigned a hold rating and one has assigned a buy rating to the company. The company presently has an average rating of "Hold" and an average target price of $43.33.
About Loews Corporation
Loews Corporation is a holding company. The Company, through its subsidiaries, is engaged in commercial property and casualty insurance; operation of offshore oil and gas drilling rigs; transportation and storage of natural gas and natural gas liquids, and operation of a chain of hotels. The Company has five segments consisted of its four individual operating subsidiaries, CNA Financial Corporation (CNA), Diamond Offshore Drilling, Inc (Diamond Offshore), Boardwalk Pipeline Partners, LP (Boardwalk Pipeline) and Loews Hotels Holding Corporation (Loews Hotels), and the Corporate segment.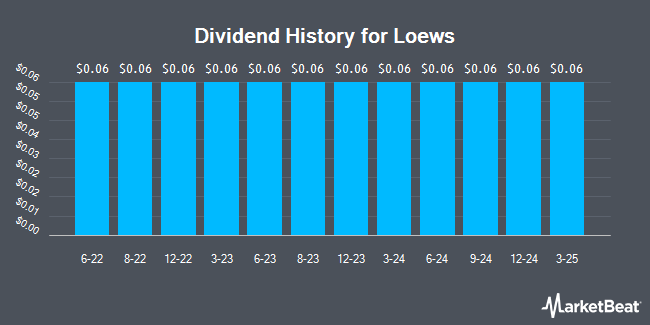 Receive News & Ratings for Loews Corporation Daily - Enter your email address below to receive a concise daily summary of the latest news and analysts' ratings for Loews Corporation and related companies with MarketBeat.com's FREE daily email newsletter.