Powell Industries, Inc. (POWL) Announces Quarterly Earnings Results, Misses Estimates By $0.22 EPS
Powell Industries, Inc. (NASDAQ:POWL) announced its quarterly earnings results on Tuesday. The industrial products company reported ($0.28) earnings per share for the quarter, missing the consensus estimate of ($0.06) by $0.22, Briefing.com reports. The company had revenue of $85.90 million for the quarter, compared to analysts' expectations of $104.45 million. Powell Industries had a net margin of 1.94% and a return on equity of 3.31%. The firm's revenue was down 35.5% compared to the same quarter last year. During the same quarter in the prior year, the business posted $0.47 earnings per share.
Shares of Powell Industries (NASDAQ:POWL) traded down 1.46% on Tuesday, reaching $32.98. The company had a trading volume of 21,973 shares. The company's 50-day moving average price is $32.50 and its 200 day moving average price is $33.87. The firm has a market capitalization of $376.90 million, a P/E ratio of 40.72 and a beta of 0.83. Powell Industries has a 52 week low of $30.49 and a 52 week high of $47.24.
Separately, BidaskClub cut Powell Industries from a "sell" rating to a "strong sell" rating in a research report on Wednesday, August 2nd.
ILLEGAL ACTIVITY WARNING: This piece of content was published by American Banking News and is the sole property of of American Banking News. If you are accessing this piece of content on another site, it was illegally copied and reposted in violation of US & international copyright & trademark laws. The correct version of this piece of content can be viewed at https://www.americanbankingnews.com/2017/08/08/powell-industries-inc-powl-announces-quarterly-earnings-results-misses-estimates-by-0-22-eps.html.
Powell Industries Company Profile
Powell Industries, Inc develops design, manufactures and services custom-engineered equipment and systems for the distribution, control and monitoring of electrical energy designed to distribute, control and monitor the flow of electrical energy, and provide protection to motors, transformers and other electrically powered equipment.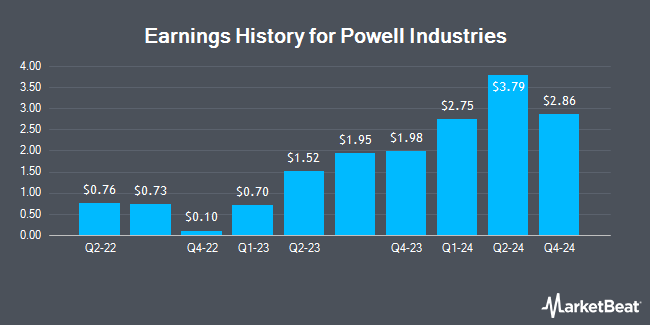 Receive News & Ratings for Powell Industries Inc. Daily - Enter your email address below to receive a concise daily summary of the latest news and analysts' ratings for Powell Industries Inc. and related companies with MarketBeat.com's FREE daily email newsletter.