Amyris, Inc. (AMRS) Issues Earnings Results, Misses Expectations By $0.35 EPS
Amyris, Inc. (NASDAQ:AMRS) announced its quarterly earnings data on Thursday. The biotechnology company reported ($1.41) EPS for the quarter, missing the Zacks' consensus estimate of ($1.06) by $0.35, Morningstar.com reports. The company had revenue of $25.68 million during the quarter, compared to analysts' expectations of $23.68 million. The firm's revenue for the quarter was up 167.5% on a year-over-year basis. During the same period last year, the firm posted ($0.06) EPS.
Amyris (AMRS) opened at 2.69 on Friday. Amyris has a one year low of $2.46 and a one year high of $18.15. The firm's 50-day moving average price is $3.51 and its 200-day moving average price is $5.88. The company's market cap is $53.28 million.
COPYRIGHT VIOLATION NOTICE: This article was first reported by American Banking News and is owned by of American Banking News. If you are reading this article on another site, it was illegally stolen and reposted in violation of U.S. and international copyright legislation. The original version of this article can be viewed at https://www.americanbankingnews.com/2017/08/10/amyris-inc-amrs-posts-earnings-results-misses-estimates-by-0-30-eps.html.
A number of analysts recently commented on AMRS shares. ValuEngine lowered Amyris from a "sell" rating to a "strong sell" rating in a research report on Friday, June 2nd. HC Wainwright set a $15.00 price objective on Amyris and gave the stock a "buy" rating in a research report on Wednesday, June 7th. Finally, Zacks Investment Research lowered Amyris from a "hold" rating to a "sell" rating in a research report on Tuesday, July 11th. One equities research analyst has rated the stock with a sell rating, one has issued a hold rating and three have issued a buy rating to the company. The company has an average rating of "Hold" and an average price target of $31.13.
In related news, Director Patrick Y. Yang purchased 300,000 shares of the business's stock in a transaction that occurred on Friday, May 19th. The shares were bought at an average price of $0.29 per share, for a total transaction of $87,000.00. Following the purchase, the director now directly owns 153,000 shares of the company's stock, valued at approximately $44,370. The acquisition was disclosed in a filing with the Securities & Exchange Commission, which can be accessed through this hyperlink. Corporate insiders own 11.30% of the company's stock.
A hedge fund recently raised its stake in Amyris stock. Carl Domino Inc raised its stake in shares of Amyris, Inc. (NASDAQ:AMRS) by 37.4% during the first quarter, according to its most recent filing with the SEC. The fund owned 201,925 shares of the biotechnology company's stock after buying an additional 54,925 shares during the period. Carl Domino Inc owned approximately 0.07% of Amyris worth $107,000 as of its most recent filing with the SEC.
Amyris Company Profile
Amyris, Inc is an integrated industrial biotechnology company. The Company is engaged in research and development and sales of fuels and farnesene-derived products. It is applying its industrial synthetic biology platform to engineer, manufacture and sell products into a range of consumer and industrial markets, including cosmetics, flavors and fragrances (F&F), solvents and cleaners, polymers, lubricants, healthcare products and fuels.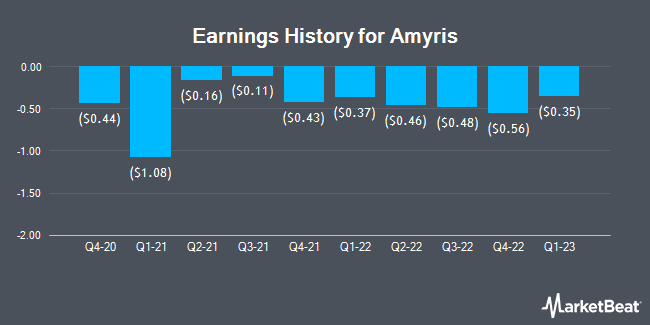 Receive News & Ratings for Amyris Inc. Daily - Enter your email address below to receive a concise daily summary of the latest news and analysts' ratings for Amyris Inc. and related companies with MarketBeat.com's FREE daily email newsletter.