MagneGas Corporation (NASDAQ:MNGA) Scheduled to Post Earnings on Monday
MagneGas Corporation (NASDAQ:MNGA) will release its earnings data after the market closes on Monday, August 14th.
MagneGas Corporation (NASDAQ:MNGA) last released its quarterly earnings results on Monday, May 15th. The oil and gas company reported ($0.30) earnings per share for the quarter. MagneGas Corporation had a negative net margin of 470.82% and a negative return on equity of 259.45%. The firm had revenue of $0.87 million for the quarter. On average, analysts expect MagneGas Corporation to post $-1.20 EPS for the current fiscal year and $-0.12 EPS for the next fiscal year.
MagneGas Corporation (NASDAQ MNGA) traded down 8.70% on Friday, hitting $0.42. 194,912 shares of the company were exchanged. MagneGas Corporation has a 52 week low of $0.42 and a 52 week high of $8.70. The stock's market capitalization is $2.50 million. The company has a 50 day moving average price of $1.00 and a 200-day moving average price of $2.97.
Separately, ValuEngine downgraded shares of MagneGas Corporation from a "hold" rating to a "sell" rating in a research report on Friday, June 2nd.
COPYRIGHT VIOLATION WARNING: "MagneGas Corporation (NASDAQ:MNGA) Scheduled to Post Earnings on Monday" was first posted by American Banking News and is the sole property of of American Banking News. If you are viewing this report on another publication, it was illegally stolen and reposted in violation of international copyright legislation. The correct version of this report can be viewed at https://www.americanbankingnews.com/2017/08/11/magnegas-corporation-nasdaqmnga-scheduled-to-post-earnings-on-monday.html.
MagneGas Corporation Company Profile
MagneGas Corporation is an alternative energy company. The Company creates and produces hydrogen-based alternative fuel through the gasification of carbon-rich liquids, including certain liquids and liquid wastes. The Company is also developing the use of fuel for co-combustion with hydrocarbon fuels to reduce emissions.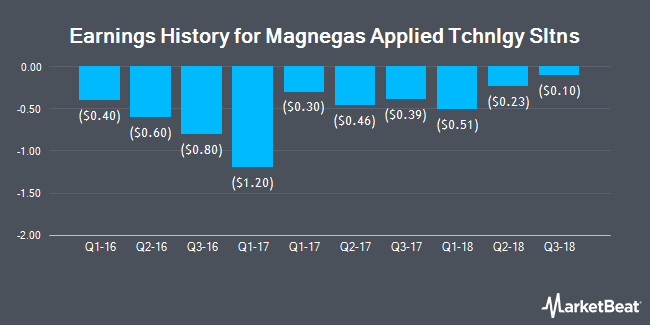 Receive News & Ratings for MagneGas Corporation Daily - Enter your email address below to receive a concise daily summary of the latest news and analysts' ratings for MagneGas Corporation and related companies with MarketBeat.com's FREE daily email newsletter.