CSP Inc. (NASDAQ:CSPI) Releases Earnings Results
CSP Inc. (NASDAQ:CSPI) issued its earnings results on Monday. The information technology services provider reported $0.17 earnings per share (EPS) for the quarter, Bloomberg Earnings reports. CSP had a net margin of 2.15% and a return on equity of 11.36%.
CSP (CSPI) traded up 5.26% on Monday, reaching $10.81. 2,521 shares of the company's stock traded hands. CSP has a 52-week low of $7.89 and a 52-week high of $11.95. The stock has a market cap of $42.39 million, a price-to-earnings ratio of 19.44 and a beta of 0.64. The company's 50 day moving average is $10.58 and its 200-day moving average is $10.44.
The company also recently announced a dividend, which will be paid on Tuesday, September 5th. Stockholders of record on Monday, August 21st will be issued a $0.11 dividend. The ex-dividend date of this dividend is Thursday, August 17th. CSP's payout ratio is 78.57%.
COPYRIGHT VIOLATION NOTICE: This news story was published by American Banking News and is the property of of American Banking News. If you are viewing this news story on another website, it was illegally copied and republished in violation of U.S. & international copyright & trademark laws. The original version of this news story can be read at https://www.americanbankingnews.com/2017/08/14/csp-inc-nasdaqcspi-releases-earnings-results.html.
CSP Company Profile
CSP Inc and its subsidiaries develop and market information technology (IT) integration solutions, security and managed services, network adapters, and cluster computer systems. The Company operates in two segments: High Performance Products (HPP) and Technology Solutions (TS). The HPP segment comprises two product lines: its Multicomputer product portfolio of computing systems for digital signal processing (DSP) applications within the defense market, and its Myricom product line of network Ethernet adapters that are offered to both commercial and government customers.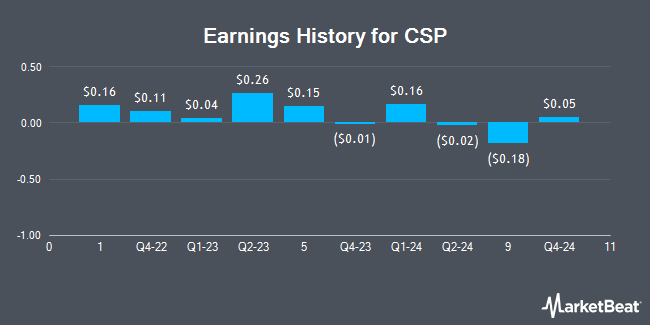 Receive News & Ratings for CSP Inc. Daily - Enter your email address below to receive a concise daily summary of the latest news and analysts' ratings for CSP Inc. and related companies with MarketBeat.com's FREE daily email newsletter.