Equities Analysts Offer Predictions for Argonaut Gold Inc's Q3 2017 Earnings (AR)
Argonaut Gold Inc (TSE:AR) – Cormark decreased their Q3 2017 earnings per share estimates for Argonaut Gold in a report released on Friday. Cormark analyst R. Gray now expects that the mining company will post earnings of $0.00 per share for the quarter, down from their prior estimate of $0.03.
TRADEMARK VIOLATION NOTICE: This article was originally reported by American Banking News and is owned by of American Banking News. If you are accessing this article on another website, it was illegally copied and republished in violation of U.S. and international copyright and trademark law. The original version of this article can be accessed at https://www.americanbankingnews.com/2017/08/14/equities-analysts-offer-predictions-for-argonaut-gold-incs-q3-2017-earnings-ar.html.
Other research analysts have also recently issued reports about the stock. CIBC raised shares of Argonaut Gold from an "underperform" rating to a "neutral" rating in a report on Thursday, May 11th. Scotiabank began coverage on shares of Argonaut Gold in a report on Friday, June 2nd. They issued an "outperform" rating and a C$3.50 target price for the company. Three equities research analysts have rated the stock with a hold rating and three have issued a buy rating to the company's stock. Argonaut Gold presently has a consensus rating of "Buy" and a consensus target price of C$3.55.
Argonaut Gold (TSE:AR) opened at 2.50 on Monday. The stock has a market cap of $442.34 million and a price-to-earnings ratio of 21.55. Argonaut Gold has a 52 week low of $1.48 and a 52 week high of $4.00. The company has a 50-day moving average price of $2.30 and a 200-day moving average price of $2.27.
In related news, Director Audra Beth Walsh bought 27,027 shares of the company's stock in a transaction on Tuesday, June 6th. The stock was bought at an average cost of C$1.85 per share, with a total value of C$49,999.95.
About Argonaut Gold
Argonaut Gold Inc, a mining company, engages in the exploration, development, and production of gold and silver in North America. The company's principal assets include the El Castillo mine located in the State of Durango, Mexico; the La Colorada mine situated in the State of Sonora, Mexico; the San Antonio gold project located in the State of Baja California Sur, Mexico; the San Agustin project situated in the State of Durango, Mexico; and the Magino gold project located in the province of Ontario, Canada.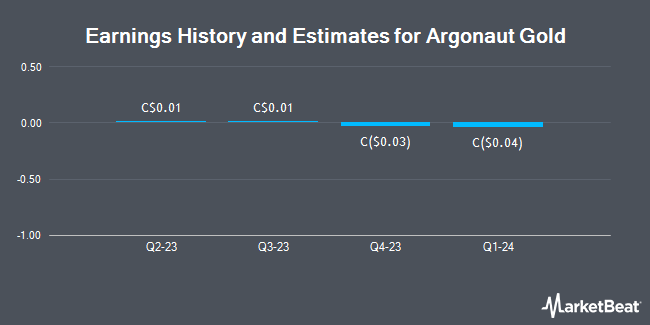 Receive News & Ratings for Argonaut Gold Inc Daily - Enter your email address below to receive a concise daily summary of the latest news and analysts' ratings for Argonaut Gold Inc and related companies with MarketBeat.com's FREE daily email newsletter.