Insider Selling: Alamos Gold Inc (AGI) Insider Sells 15,000 Shares of Stock
Alamos Gold Inc (TSE:AGI) (NYSE:AGI) insider Colin Webster sold 15,000 shares of the business's stock in a transaction on Thursday, August 10th. The stock was sold at an average price of C$10.02, for a total value of C$150,300.00.
Alamos Gold Inc (TSE AGI) traded down 1.39% during mid-day trading on Monday, reaching $9.93. The company's stock had a trading volume of 401,527 shares. Alamos Gold Inc has a one year low of $7.86 and a one year high of $12.03. The stock's 50 day moving average is $9.02 and its 200 day moving average is $9.73. The firm's market cap is $2.99 billion.
COPYRIGHT VIOLATION WARNING: This article was originally posted by American Banking News and is owned by of American Banking News. If you are viewing this article on another publication, it was copied illegally and republished in violation of United States and international copyright legislation. The original version of this article can be read at https://www.americanbankingnews.com/2017/08/14/insider-selling-alamos-gold-inc-agi-insider-sells-15000-shares-of-stock.html.
Several research analysts recently weighed in on AGI shares. TD Securities upgraded Alamos Gold from a "hold" rating to a "buy" rating and set a C$12.50 target price on the stock in a research note on Friday, May 5th. National Bank Financial reiterated an "outperform market weight" rating on shares of Alamos Gold in a research note on Sunday, July 23rd. Three research analysts have rated the stock with a hold rating and three have given a buy rating to the company's stock. Alamos Gold currently has a consensus rating of "Buy" and an average price target of C$12.91.
About Alamos Gold
Alamos Gold Inc, together with its subsidiaries, engages in the acquisition, exploration, development, and extraction of gold deposits in North America. It also explores for silver and precious metals. The company holds interests in the Young-Davidson mine, which includes contiguous mineral leases and claims totaling 11,000 acres located in Northern Ontario, Canada; the Mulatos mine located within the Salamandra Concessions in the Sierra Madre Occidental mountain range in the east-central portion of the State of Sonora, Mexico; and the El Chanate mine that comprises 22 mineral concessions covering 4,618 hectares situated in the State of Sonora, Mexico.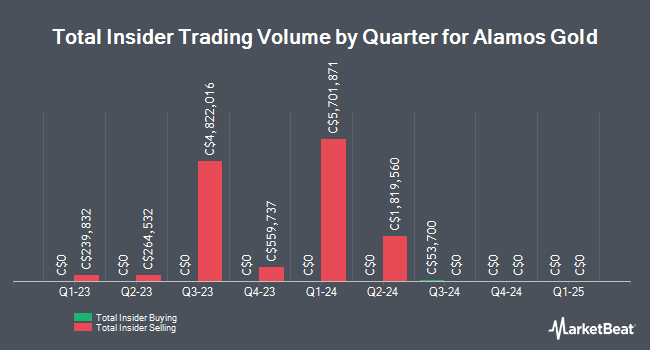 Receive News & Ratings for Alamos Gold Inc Daily - Enter your email address below to receive a concise daily summary of the latest news and analysts' ratings for Alamos Gold Inc and related companies with MarketBeat.com's FREE daily email newsletter.