Accuray Incorporated (ARAY) Scheduled to Post Earnings on Tuesday
Accuray Incorporated (NASDAQ:ARAY) is scheduled to be releasing its earnings data after the market closes on Tuesday, August 22nd.
Shares of Accuray Incorporated (NASDAQ ARAY) opened at 4.15 on Tuesday. The stock has a 50 day moving average price of $4.46 and a 200-day moving average price of $4.68. The company's market capitalization is $344.45 million. Accuray Incorporated has a one year low of $3.85 and a one year high of $6.39.
Several brokerages recently weighed in on ARAY. Zacks Investment Research cut shares of Accuray from a "buy" rating to a "hold" rating in a research report on Tuesday, May 2nd. Jefferies Group LLC reaffirmed a "buy" rating and issued a $7.00 price target (down previously from $8.00) on shares of Accuray in a research report on Saturday, April 29th. BTIG Research reaffirmed a "hold" rating on shares of Accuray in a research report on Sunday, April 30th. Finally, BidaskClub cut shares of Accuray from a "hold" rating to a "sell" rating in a research report on Thursday, July 27th. Two investment analysts have rated the stock with a sell rating, three have assigned a hold rating and three have assigned a buy rating to the company's stock. Accuray has a consensus rating of "Hold" and a consensus price target of $7.04.
COPYRIGHT VIOLATION WARNING: This article was posted by American Banking News and is the property of of American Banking News. If you are reading this article on another publication, it was copied illegally and republished in violation of United States & international trademark & copyright law. The original version of this article can be viewed at https://www.americanbankingnews.com/2017/08/15/accuray-incorporated-aray-scheduled-to-post-earnings-on-tuesday.html.
Accuray Company Profile
Accuray Incorporated is a radiation oncology company. The Company develops, manufactures and markets medical devices used in radiation therapy for the treatment of cancer patients. Its products include the CyberKnife Systems, the TomoTherapy Systems, and the Radixact Delivery Treatment Platform. Its technologies, the CyberKnife and TomoTherapy Systems, are designed to deliver treatments, including stereotactic radiosurgery (SRS), stereotactic body radiation therapy (SBRT), intensity modulated radiation therapy (IMRT), image guided radiation therapy (IGRT) and adaptive radiation therapy.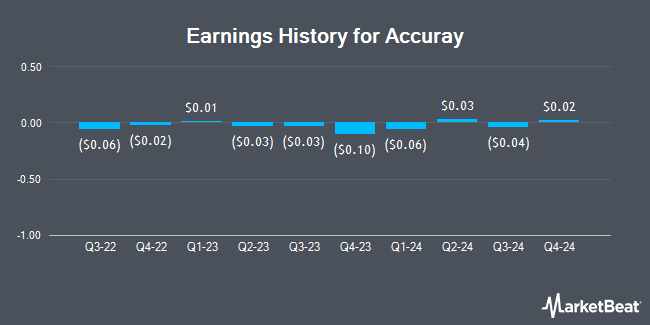 Receive News & Ratings for Accuray Incorporated Daily - Enter your email address below to receive a concise daily summary of the latest news and analysts' ratings for Accuray Incorporated and related companies with MarketBeat.com's FREE daily email newsletter.