Destination XL Group, Inc. (DXLG) Set to Announce Earnings on Wednesday
Destination XL Group, Inc. (NASDAQ:DXLG) is scheduled to be releasing its earnings data before the market opens on Wednesday, August 23rd. Analysts expect Destination XL Group to post earnings of ($0.03) per share for the quarter. Destination XL Group has set its FY18 guidance at ($0.14)-($0.06) EPS.
Destination XL Group (NASDAQ:DXLG) last announced its quarterly earnings results on Friday, May 19th. The specialty retailer reported ($0.07) earnings per share (EPS) for the quarter, missing the Zacks' consensus estimate of ($0.05) by $0.02. The business had revenue of $107.70 million during the quarter, compared to analyst estimates of $109.24 million. Destination XL Group had a negative net margin of 1.90% and a negative return on equity of 5.81%. The firm's revenue for the quarter was down .2% compared to the same quarter last year. On average, analysts expect Destination XL Group to post $-0.11 EPS for the current fiscal year and $0.06 EPS for the next fiscal year.
Destination XL Group, Inc. (NASDAQ:DXLG) opened at 1.70 on Wednesday. The company has a 50-day moving average price of $2.00 and a 200-day moving average price of $2.48. The firm's market capitalization is $83.75 million. Destination XL Group, Inc. has a one year low of $1.65 and a one year high of $5.57.
In other Destination XL Group news, Director Seymour Holtzman acquired 25,000 shares of the company's stock in a transaction on Monday, July 10th. The shares were bought at an average cost of $2.05 per share, for a total transaction of $51,250.00. Following the acquisition, the director now directly owns 4,196,064 shares of the company's stock, valued at $8,601,931.20. The transaction was disclosed in a document filed with the Securities & Exchange Commission, which can be accessed through this link. 31.46% of the stock is owned by insiders.
Several research firms have issued reports on DXLG. Zacks Investment Research downgraded Destination XL Group from a "hold" rating to a "strong sell" rating in a report on Thursday, May 25th. FBR & Co restated an "outperform" rating and set a $3.00 price objective on shares of Destination XL Group in a report on Tuesday, July 11th.
COPYRIGHT VIOLATION WARNING: This article was reported by American Banking News and is the sole property of of American Banking News. If you are viewing this article on another domain, it was copied illegally and reposted in violation of international copyright and trademark law. The correct version of this article can be accessed at https://www.americanbankingnews.com/2017/08/16/destination-xl-group-inc-dxlg-set-to-announce-earnings-on-wednesday.html.
Destination XL Group Company Profile
Destination XL Group, Inc is a specialty retailer of men's apparel with retail and direct operations in the United States and London, England. The Company operates through the Big & Tall Men's Apparel segment. The Company operates under the trade names of Destination XL, DXL, Casual Male XL, Casual Male XL outlets, DXL outlets, Rochester Clothing, ShoesXL and LivingXL.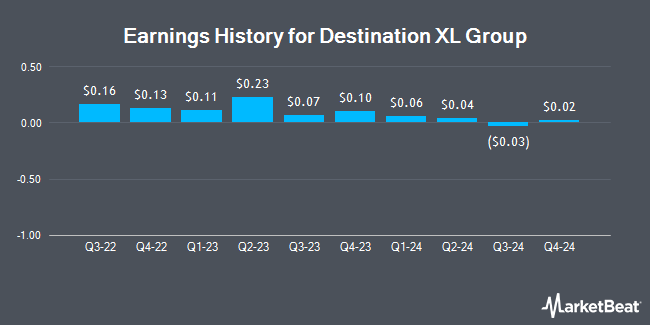 Receive News & Ratings for Destination XL Group Inc. Daily - Enter your email address below to receive a concise daily summary of the latest news and analysts' ratings for Destination XL Group Inc. and related companies with MarketBeat.com's FREE daily email newsletter.