Movado Group Inc. (MOV) Scheduled to Post Earnings on Wednesday
Movado Group Inc. (NYSE:MOV) will be posting its quarterly earnings results before the market opens on Wednesday, August 23rd. Analysts expect Movado Group to post earnings of $0.23 per share for the quarter. Movado Group has set its FY18 guidance at $1.40-1.55 EPS.
Movado Group (NYSE:MOV) last issued its quarterly earnings data on Thursday, May 25th. The company reported $0.01 EPS for the quarter, missing analysts' consensus estimates of $0.10 by $0.09. Movado Group had a return on equity of 7.04% and a net margin of 5.13%. The firm had revenue of $99.30 million during the quarter, compared to analyst estimates of $100.23 million. During the same quarter in the prior year, the firm earned $0.19 EPS. The business's quarterly revenue was down 13.0% compared to the same quarter last year. On average, analysts expect Movado Group to post $1.37 EPS for the current fiscal year and $1.67 EPS for the next fiscal year.
Movado Group Inc. (NYSE MOV) opened at 23.10 on Wednesday. The firm has a 50-day moving average of $24.59 and a 200-day moving average of $23.92. The firm has a market cap of $530.84 million, a price-to-earnings ratio of 19.33 and a beta of 0.35. Movado Group Inc. has a one year low of $20.23 and a one year high of $31.95.
A number of brokerages have weighed in on MOV. ValuEngine raised shares of Movado Group from a "hold" rating to a "buy" rating in a report on Tuesday, July 25th. Zacks Investment Research raised shares of Movado Group from a "sell" rating to a "hold" rating in a report on Wednesday, August 9th. Three investment analysts have rated the stock with a hold rating and one has issued a buy rating to the company's stock. The company currently has an average rating of "Hold" and a consensus target price of $31.00.
WARNING: This piece was originally reported by American Banking News and is the sole property of of American Banking News. If you are accessing this piece on another domain, it was stolen and republished in violation of US & international trademark and copyright law. The legal version of this piece can be read at https://www.americanbankingnews.com/2017/08/16/movado-group-inc-mov-scheduled-to-post-earnings-on-wednesday.html.
Movado Group Company Profile
Movado Group, Inc designs, sources, markets and distributes watches. The Company operates through two segments: Wholesale and Retail. The Wholesale segment includes the design, development, sourcing, marketing and distribution of watches, and after-sales service activities and shipping. It sells all of its brands to jewelry store chains and department stores, as well as independent jewelers.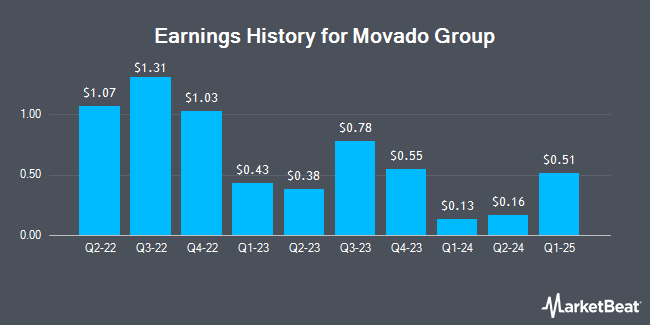 Receive News & Ratings for Movado Group Inc. Daily - Enter your email address below to receive a concise daily summary of the latest news and analysts' ratings for Movado Group Inc. and related companies with MarketBeat.com's FREE daily email newsletter.