New Gold Inc. (NGD) Receives Consensus Rating of "Hold" from Brokerages
Shares of New Gold Inc. (TSE:NGD) (ARCA:NGD) have been assigned a consensus rating of "Hold" from the eleven research firms that are currently covering the firm, Marketbeat reports. Three analysts have rated the stock with a sell recommendation, three have issued a hold recommendation and three have issued a buy recommendation on the company. The average 12-month price objective among analysts that have updated their coverage on the stock in the last year is C$4.69.
NGD has been the subject of several recent analyst reports. TD Securities reaffirmed a "buy" rating and set a C$7.00 price objective on shares of New Gold in a research report on Friday, April 28th. Scotiabank reissued a "sector perform" rating and issued a C$4.00 target price on shares of New Gold in a report on Wednesday, April 26th. Finally, National Bank Financial reissued an "outperform market weight" rating on shares of New Gold in a report on Sunday, July 23rd.
Shares of New Gold (TSE:NGD) traded down 2.06% during mid-day trading on Friday, reaching $4.28. 952,934 shares of the company's stock were exchanged. New Gold has a 52-week low of $3.11 and a 52-week high of $7.46. The stock has a market cap of $2.47 billion and a price-to-earnings ratio of 44.12. The stock's 50-day moving average is $4.04 and its 200-day moving average is $3.97.
TRADEMARK VIOLATION NOTICE: "New Gold Inc. (NGD) Receives Consensus Rating of "Hold" from Brokerages" was first posted by American Banking News and is the sole property of of American Banking News. If you are viewing this report on another publication, it was stolen and reposted in violation of international trademark & copyright legislation. The correct version of this report can be viewed at https://www.americanbankingnews.com/2017/08/18/new-gold-inc-ngd-receives-consensus-rating-of-hold-from-brokerages-2.html.
About New Gold
New Gold Inc, an intermediate gold mining company, engages in the development and operation of mineral properties. It explores for gold, silver, and copper deposits. The company's operating properties include the New Afton project located to the northeast of Vancouver in the south-central interior of British Columbia, Canada; the Mesquite mine located in Imperial County, California, the United States; the Peak mines located in New South Wales, Australia; and the Cerro San Pedro mine located in the state of San Luis Potosí, Mexico.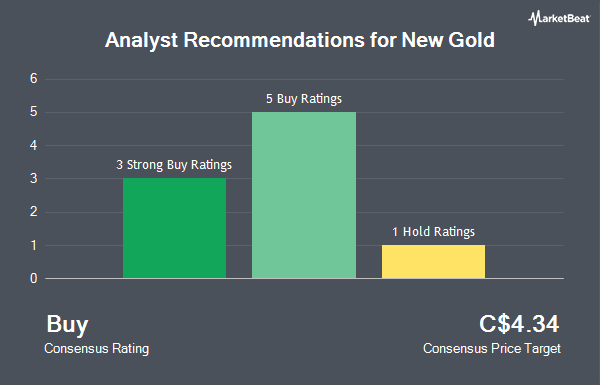 Receive News & Ratings for New Gold Inc. Daily - Enter your email address below to receive a concise daily summary of the latest news and analysts' ratings for New Gold Inc. and related companies with MarketBeat.com's FREE daily email newsletter.