Fidessa Group plc (FDSA) Insider Chris Aspinwall Purchases 6 Shares
Fidessa Group plc (LON:FDSA) insider Chris Aspinwall acquired 6 shares of the stock in a transaction on Tuesday, August 22nd. The stock was bought at an average cost of GBX 2,133 ($27.69) per share, for a total transaction of £127.98 ($166.14).
Fidessa Group plc (LON:FDSA) opened at 2087.00 on Thursday. The firm has a 50-day moving average of GBX 2,251.70 and a 200-day moving average of GBX 2,425.87. The stock's market cap is GBX 800.84 million. Fidessa Group plc has a 1-year low of GBX 2,072.00 and a 1-year high of GBX 2,675.00.
The company also recently announced a dividend, which will be paid on Thursday, September 21st. Investors of record on Thursday, August 24th will be issued a dividend of GBX 15.30 ($0.20) per share. This represents a yield of 0.71%. The ex-dividend date of this dividend is Thursday, August 24th.
TRADEMARK VIOLATION WARNING: This report was originally published by American Banking News and is owned by of American Banking News. If you are viewing this report on another website, it was illegally stolen and republished in violation of US and international trademark & copyright laws. The original version of this report can be accessed at https://www.americanbankingnews.com/2017/08/24/fidessa-group-plc-fdsa-insider-chris-aspinwall-purchases-6-shares.html.
A number of research firms recently weighed in on FDSA. Numis Securities Ltd lowered shares of Fidessa Group plc to an "add" rating and set a GBX 2,920 ($37.91) target price on the stock. in a report on Thursday, April 27th. Barclays PLC upped their target price on shares of Fidessa Group plc from GBX 1,860 ($24.15) to GBX 1,990 ($25.83) and gave the stock an "underweight" rating in a report on Tuesday, August 1st. Three research analysts have rated the stock with a sell rating and two have assigned a hold rating to the stock. The company currently has an average rating of "Sell" and a consensus target price of GBX 2,252 ($29.24).
Fidessa Group plc Company Profile
Fidessa group plc is a United Kingdom-based holding company. The Company provides trading, investment and information solutions for the financial community. It is structured into two business units: Sell-side and Buy-side. The Sell-side business unit provides solutions and tools to support the trading of cash equities and derivatives across the globe.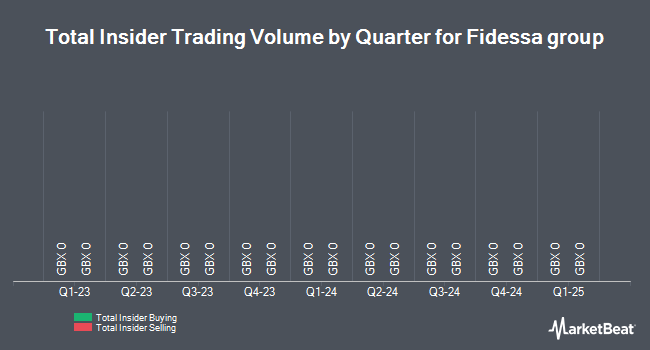 Receive News & Ratings for Fidessa Group plc Daily - Enter your email address below to receive a concise daily summary of the latest news and analysts' ratings for Fidessa Group plc and related companies with MarketBeat.com's FREE daily email newsletter.