Ithaca Energy Inc (IAE) Given Average Recommendation of "Hold" by Analysts
Ithaca Energy Inc (LON:IAE) has received an average rating of "Hold" from the six research firms that are presently covering the firm, Marketbeat Ratings reports. Three analysts have rated the stock with a sell rating, two have issued a hold rating and one has assigned a buy rating to the company. The average 12-month price target among brokerages that have issued a report on the stock in the last year is GBX 99 ($1.28).
Separately, Macquarie restated an "underperform" rating and set a GBX 86 ($1.11) price target on shares of Ithaca Energy in a research note on Thursday, June 8th.
COPYRIGHT VIOLATION NOTICE: "Ithaca Energy Inc (IAE) Given Average Recommendation of "Hold" by Analysts" was posted by American Banking News and is the sole property of of American Banking News. If you are accessing this story on another publication, it was illegally copied and reposted in violation of U.S. and international copyright and trademark legislation. The legal version of this story can be read at https://www.americanbankingnews.com/2017/08/30/ithaca-energy-inc-iae-given-average-recommendation-of-hold-by-analysts.html.
Shares of Ithaca Energy (IAE) remained flat at GBX 110.75 during mid-day trading on Wednesday. The company had a trading volume of 179,656 shares. The firm has a 50-day moving average price of GBX 106.79 and a 200-day moving average price of GBX 105.54. Ithaca Energy has a 52 week low of GBX 48.88 and a 52 week high of GBX 121.00.
Ithaca Energy Company Profile
Ithaca Energy Inc is a North Sea oil and gas operator engaged in the appraisal and development of the United Kingdom undeveloped discoveries and the exploitation of its existing the United Kingdom producing asset portfolio. The Company has interests in three general areas within the United Kingdom sector of the North Sea: Northern North Sea, which consists of Dons, Fionn and Broom; Central North Sea, which consists of Greater Stella Area (GSA), Cook and Pierce, and Southern England consisting of Wytch Farm.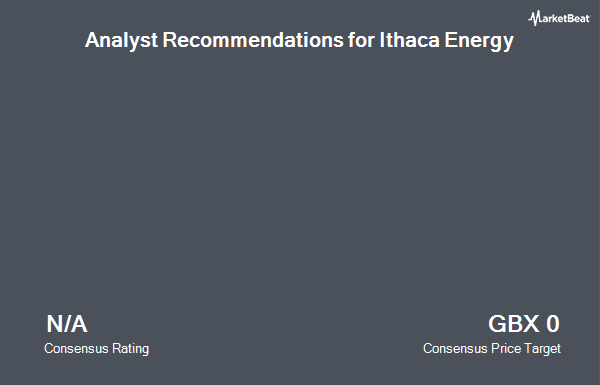 Receive News & Ratings for Ithaca Energy Inc Daily - Enter your email address below to receive a concise daily summary of the latest news and analysts' ratings for Ithaca Energy Inc and related companies with MarketBeat.com's FREE daily email newsletter.