Great-West Lifeco Inc (GWO) Given Average Rating of "Hold" by Analysts
Great-West Lifeco Inc (TSE:GWO) has been given an average recommendation of "Hold" by the eleven ratings firms that are covering the stock, MarketBeat.com reports. One analyst has rated the stock with a sell recommendation and six have given a hold recommendation to the company. The average twelve-month target price among brokerages that have updated their coverage on the stock in the last year is C$36.70.
Separately, Barclays PLC boosted their target price on Great-West Lifeco from C$36.00 to C$37.00 in a research report on Wednesday, July 12th.
In related news, insider Lifeco U.S. Holding Great-West sold 33,665 shares of the business's stock in a transaction that occurred on Friday, June 30th. The stock was sold at an average price of C$34.11, for a total value of C$1,148,313.15.
Great-West Lifeco (TSE:GWO) opened at 34.62 on Wednesday. Great-West Lifeco has a one year low of $30.85 and a one year high of $37.79. The company has a 50-day moving average of $35.22 and a 200-day moving average of $35.54. The company has a market cap of $34.27 billion and a price-to-earnings ratio of 13.57.
The company also recently announced a quarterly dividend, which will be paid on Friday, September 29th. Investors of record on Friday, September 1st will be given a $0.367 dividend. The ex-dividend date of this dividend is Wednesday, August 30th. This represents a $1.47 dividend on an annualized basis and a yield of 4.24%.
ILLEGAL ACTIVITY NOTICE: This article was published by American Banking News and is the property of of American Banking News. If you are reading this article on another website, it was illegally stolen and republished in violation of international copyright and trademark laws. The legal version of this article can be read at https://www.americanbankingnews.com/2017/09/06/great-west-lifeco-inc-gwo-given-average-rating-of-hold-by-analysts.html.
About Great-West Lifeco
Great-West Lifeco Inc (Lifeco) is a financial services holding company. The Company has interests in the life insurance, health insurance, asset management, investment and retirement savings, and reinsurance businesses. It operates through four operating segments: Canada, United States, Europe and Lifeco Corporate.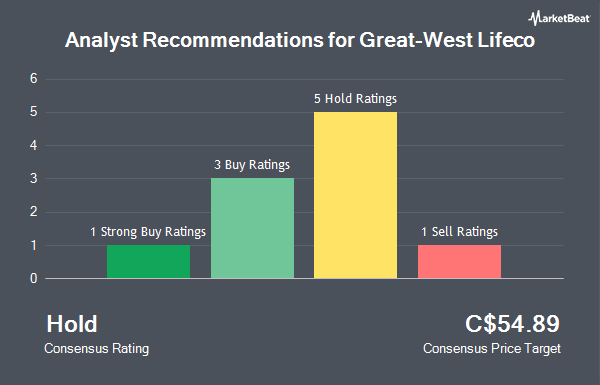 Receive News & Ratings for Great-West Lifeco Inc Daily - Enter your email address below to receive a concise daily summary of the latest news and analysts' ratings for Great-West Lifeco Inc and related companies with MarketBeat.com's FREE daily email newsletter.