Centerra Gold Inc. (CG) Price Target Increased to C$9.50 by Analysts at CIBC
Centerra Gold Inc. (TSE:CG) had its price objective upped by stock analysts at CIBC from C$8.50 to C$9.50 in a research report issued to clients and investors on Thursday. CIBC's target price suggests a potential upside of 15.57% from the company's current price.
CG has been the topic of several other reports. National Bank Financial reiterated an "outperform spec market weight" rating on shares of Centerra Gold in a research report on Sunday, July 23rd. BMO Capital Markets reiterated a "market perform" rating and set a C$8.00 target price on shares of Centerra Gold in a research report on Monday, July 10th. One research analyst has rated the stock with a sell rating, four have issued a hold rating and two have issued a buy rating to the company. The company presently has a consensus rating of "Hold" and a consensus target price of C$8.22.
Centerra Gold (TSE CG) traded up 3.89% during midday trading on Thursday, hitting $8.54. 731,596 shares of the company were exchanged. Centerra Gold has a one year low of $5.56 and a one year high of $8.56. The firm's 50-day moving average price is $6.96 and its 200-day moving average price is $7.16. The stock has a market capitalization of $2.49 billion and a PE ratio of 11.19.
ILLEGAL ACTIVITY WARNING: "Centerra Gold Inc. (CG) Price Target Increased to C$9.50 by Analysts at CIBC" was posted by American Banking News and is the property of of American Banking News. If you are reading this article on another domain, it was illegally copied and republished in violation of U.S. & international copyright laws. The legal version of this article can be accessed at https://www.americanbankingnews.com/2017/09/07/centerra-gold-inc-cg-price-target-increased-to-c9-50-by-analysts-at-cibc.html.
Centerra Gold Company Profile
Centerra Gold Inc is a Canada-based gold mining company focused on operating, developing, exploring and acquiring gold properties in Asia, North America and other markets across the world. The Company's exploration segment includes the operations of Lagares Project in which the activities are related to its subsidiary, Centerra Gold (KB) Inc Its Kyrgyz segment includes Kumtor Gold Co (KGC) (Kyrgyz Republic), which operates Kumtor Mine.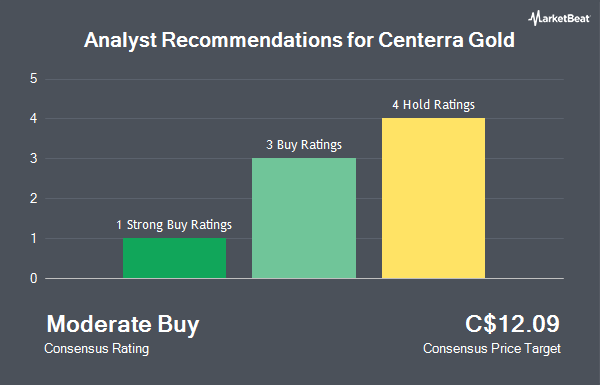 Receive News & Ratings for Centerra Gold Inc. Daily - Enter your email address below to receive a concise daily summary of the latest news and analysts' ratings for Centerra Gold Inc. and related companies with MarketBeat.com's FREE daily email newsletter.