Cheryl Ann Dyer Sells 6,000 Shares of Senestech, Inc. (SNES) Stock
Senestech, Inc. (NASDAQ:SNES) insider Cheryl Ann Dyer sold 6,000 shares of the firm's stock in a transaction that occurred on Tuesday, September 5th. The stock was sold at an average price of $2.31, for a total transaction of $13,860.00. Following the sale, the insider now directly owns 430,212 shares in the company, valued at approximately $993,789.72. The sale was disclosed in a document filed with the SEC, which is available through the SEC website.
Shares of Senestech, Inc. (SNES) remained flat at $2.24 during midday trading on Thursday. The company had a trading volume of 16,690 shares. The firm's market capitalization is $23.13 million. Senestech, Inc. has a 12 month low of $2.03 and a 12 month high of $10.69. The stock's 50 day moving average is $2.87 and its 200 day moving average is $6.01.
Senestech (NASDAQ:SNES) last released its quarterly earnings results on Thursday, August 10th. The company reported ($0.35) EPS for the quarter, missing the Thomson Reuters' consensus estimate of ($0.28) by $0.07. The firm had revenue of $0.01 million during the quarter, compared to analyst estimates of $0.10 million. Equities research analysts anticipate that Senestech, Inc. will post ($1.30) earnings per share for the current fiscal year.
TRADEMARK VIOLATION NOTICE: This article was originally published by American Banking News and is owned by of American Banking News. If you are viewing this article on another domain, it was copied illegally and republished in violation of international trademark & copyright legislation. The original version of this article can be accessed at https://www.americanbankingnews.com/2017/09/07/cheryl-ann-dyer-sells-6000-shares-of-senestech-inc-snes-stock.html.
A hedge fund recently raised its stake in Senestech stock. Prudential PLC lifted its stake in shares of Senestech, Inc. (NASDAQ:SNES) by 49.3% in the 2nd quarter, according to its most recent Form 13F filing with the Securities and Exchange Commission (SEC). The fund owned 447,971 shares of the company's stock after purchasing an additional 147,971 shares during the quarter. Prudential PLC owned about 4.39% of Senestech worth $2,661,000 at the end of the most recent quarter. Hedge funds and other institutional investors own 15.34% of the company's stock.
SNES has been the topic of a number of analyst reports. Roth Capital set a $14.00 price objective on shares of Senestech and gave the stock a "buy" rating in a research note on Saturday, May 13th. Zacks Investment Research cut shares of Senestech from a "hold" rating to a "sell" rating in a research note on Thursday, June 1st.
About Senestech
SenesTech, Inc is a United States-based biotechnology platform and research company. The Company is engaged in developing a technology for managing animal populations by fertility control. It offers ContraPest, a fertility control product candidate. ContraPest's technology and approach targets the reproductive capabilities of both sexes.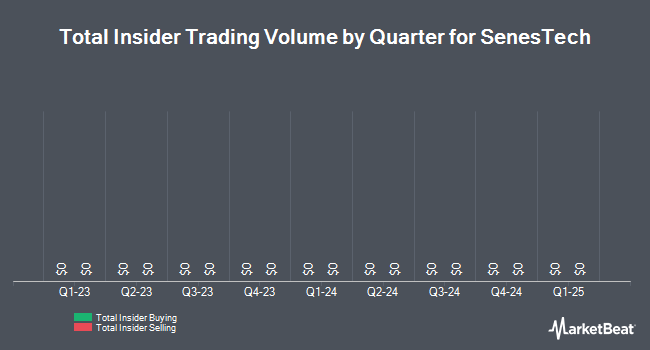 Receive News & Ratings for Senestech Inc. Daily - Enter your email address below to receive a concise daily summary of the latest news and analysts' ratings for Senestech Inc. and related companies with MarketBeat.com's FREE daily email newsletter.