Insider Selling: RXi Pharmaceuticals Corporation (RXII) Insider Sells 176,800 Shares of Stock
RXi Pharmaceuticals Corporation (NASDAQ:RXII) insider Alexey Eliseev sold 176,800 shares of the firm's stock in a transaction that occurred on Thursday, September 7th. The shares were sold at an average price of $0.54, for a total value of $95,472.00. Following the completion of the transaction, the insider now owns 1,100,931 shares in the company, valued at approximately $594,502.74. The transaction was disclosed in a document filed with the Securities & Exchange Commission, which is available through this link.
Alexey Eliseev also recently made the following trade(s):
On Friday, September 1st, Alexey Eliseev sold 23,200 shares of RXi Pharmaceuticals Corporation stock. The shares were sold at an average price of $0.57, for a total value of $13,224.00.
RXi Pharmaceuticals Corporation (NASDAQ RXII) traded down 0.56% during trading on Thursday, hitting $0.53. The stock had a trading volume of 250,698 shares. The firm's market cap is $12.32 million. RXi Pharmaceuticals Corporation has a 12-month low of $0.51 and a 12-month high of $2.93. The stock's 50 day moving average price is $0.58 and its 200 day moving average price is $0.64.
RXi Pharmaceuticals Corporation (NASDAQ:RXII) last announced its quarterly earnings results on Thursday, August 10th. The biotechnology company reported ($0.11) EPS for the quarter, hitting the Thomson Reuters' consensus estimate of ($0.11). During the same period in the previous year, the business posted ($0.34) EPS. On average, analysts anticipate that RXi Pharmaceuticals Corporation will post ($1.77) EPS for the current fiscal year.
ILLEGAL ACTIVITY WARNING: This piece of content was first published by American Banking News and is the property of of American Banking News. If you are viewing this piece of content on another site, it was copied illegally and reposted in violation of US and international copyright laws. The legal version of this piece of content can be read at https://www.americanbankingnews.com/2017/09/07/insider-selling-rxi-pharmaceuticals-corporation-rxii-insider-sells-176800-shares-of-stock.html.
RXi Pharmaceuticals Corporation Company Profile
RXi Pharmaceuticals Corporation is a clinical-stage ribonucleic acid (RNA) interference (RNAi) company developing therapeutics in dermatology and ophthalmology that address unmet medical needs. The Company's development programs are based on its self-delivering RNAi (sd-rxRNA) platform and Samcyprone, a topical immunomodulator.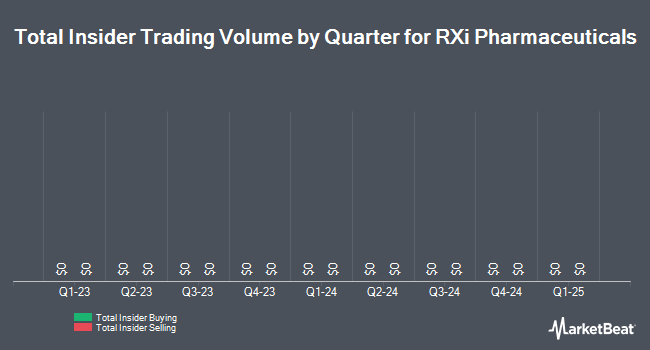 Receive News & Ratings for RXi Pharmaceuticals Corporation Daily - Enter your email address below to receive a concise daily summary of the latest news and analysts' ratings for RXi Pharmaceuticals Corporation and related companies with MarketBeat.com's FREE daily email newsletter.