Olympic Steel, Inc. (ZEUS) COO Acquires $62,125.00 in Stock
Olympic Steel, Inc. (NASDAQ:ZEUS) COO Andrew S. Greiff purchased 3,500 shares of the firm's stock in a transaction that occurred on Tuesday, September 5th. The shares were bought at an average price of $17.75 per share, with a total value of $62,125.00. Following the completion of the acquisition, the chief operating officer now owns 9,021 shares of the company's stock, valued at approximately $160,122.75. The purchase was disclosed in a document filed with the SEC, which can be accessed through the SEC website.
Olympic Steel, Inc. (ZEUS) traded up 6.99% during mid-day trading on Thursday, hitting $19.29. 203,326 shares of the company traded hands. The company has a market capitalization of $211.55 million, a price-to-earnings ratio of 25.35 and a beta of 1.72. Olympic Steel, Inc. has a one year low of $15.83 and a one year high of $28.67. The company's 50-day moving average price is $17.60 and its 200 day moving average price is $18.81.
Olympic Steel (NASDAQ:ZEUS) last posted its earnings results on Thursday, August 3rd. The basic materials company reported $0.47 earnings per share (EPS) for the quarter, topping analysts' consensus estimates of $0.41 by $0.06. Olympic Steel had a return on equity of 2.82% and a net margin of 0.71%. The business had revenue of $356.20 million during the quarter, compared to analysts' expectations of $365 million. During the same period in the prior year, the business earned $0.32 EPS. On average, analysts anticipate that Olympic Steel, Inc. will post $1.23 earnings per share for the current fiscal year.
The firm also recently announced a quarterly dividend, which will be paid on Friday, September 15th. Investors of record on Friday, September 1st will be paid a dividend of $0.02 per share. The ex-dividend date is Wednesday, August 30th. This represents a $0.08 dividend on an annualized basis and a yield of 0.41%. Olympic Steel's payout ratio is 10.67%.
ILLEGAL ACTIVITY NOTICE: This piece of content was first reported by American Banking News and is owned by of American Banking News. If you are reading this piece of content on another publication, it was copied illegally and reposted in violation of U.S. and international trademark & copyright laws. The correct version of this piece of content can be accessed at https://www.americanbankingnews.com/2017/09/07/olympic-steel-inc-zeus-coo-acquires-62125-00-in-stock.html.
A number of hedge funds and other institutional investors have recently bought and sold shares of ZEUS. Marshall Wace North America L.P. bought a new stake in Olympic Steel during the 2nd quarter worth approximately $1,961,000. Scopus Asset Management L.P. bought a new stake in Olympic Steel during the 1st quarter worth approximately $1,912,000. GSA Capital Partners LLP bought a new stake in Olympic Steel during the 2nd quarter worth approximately $1,630,000. Prudential Financial Inc. increased its stake in Olympic Steel by 206.5% during the 2nd quarter. Prudential Financial Inc. now owns 99,870 shares of the basic materials company's stock worth $1,946,000 after purchasing an additional 67,281 shares in the last quarter. Finally, Balyasny Asset Management LLC bought a new stake in Olympic Steel during the 2nd quarter worth approximately $1,266,000. 68.13% of the stock is owned by institutional investors and hedge funds.
Several research firms recently commented on ZEUS. Zacks Investment Research cut shares of Olympic Steel from a "strong-buy" rating to a "hold" rating in a report on Saturday, August 19th. Jefferies Group LLC restated a "hold" rating on shares of Olympic Steel in a report on Friday, July 7th. Three equities research analysts have rated the stock with a hold rating and two have given a buy rating to the company. The company presently has an average rating of "Hold" and an average price target of $21.75.
About Olympic Steel
Olympic Steel, Inc is a metals service center. The Company provides metals processing and distribution services for a range of customers. The Company operates through three segments: carbon flat products, specialty metals flat products, and tubular and pipe products. The Company's carbon flat products segment's focus is on the direct sale and distribution of large volumes of processed carbon and coated flat-rolled sheet, coil and plate products and fabricated parts.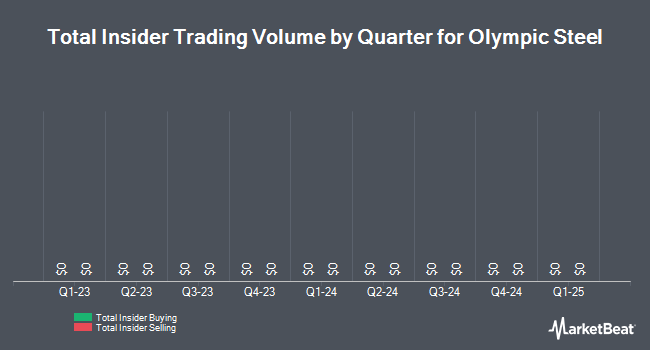 Receive News & Ratings for Olympic Steel Inc. Daily - Enter your email address below to receive a concise daily summary of the latest news and analysts' ratings for Olympic Steel Inc. and related companies with MarketBeat.com's FREE daily email newsletter.