DRDGOLD Limited Declares Quarterly Dividend of $0.04 (DRD)
DRDGOLD Limited (NYSE:DRD) announced a quarterly dividend on Friday, September 8th, Wall Street Journal reports. Investors of record on Friday, September 29th will be paid a dividend of 0.0389 per share by the basic materials company on Thursday, October 12th. This represents a $0.16 annualized dividend and a dividend yield of 3.93%. The ex-dividend date of this dividend is Thursday, September 28th.
DRDGOLD Limited has raised its dividend payment by an average of 12.8% annually over the last three years and has increased its dividend every year for the last 4 years.
Shares of DRDGOLD Limited (NYSE DRD) traded down 0.50% during midday trading on Friday, hitting $3.96. The company had a trading volume of 230,427 shares. The company's 50-day moving average price is $3.26 and its 200 day moving average price is $3.88. DRDGOLD Limited has a 12-month low of $2.84 and a 12-month high of $6.67. The company has a market capitalization of $167.14 million, a price-to-earnings ratio of 47.71 and a beta of -1.95.
ILLEGAL ACTIVITY WARNING: "DRDGOLD Limited Declares Quarterly Dividend of $0.04 (DRD)" was first reported by American Banking News and is the sole property of of American Banking News. If you are reading this article on another site, it was illegally copied and reposted in violation of U.S. and international copyright and trademark legislation. The correct version of this article can be viewed at https://www.americanbankingnews.com/2017/09/08/drdgold-limited-declares-quarterly-dividend-of-0-04-drd.html.
Separately, HSBC Holdings plc raised shares of DRDGOLD Limited from a "reduce" rating to a "hold" rating in a report on Monday, May 15th.
About DRDGOLD Limited
DRDGOLD Limited is a gold mining company. The Company is engaged in gold production by tailings retreatment. The Company is focused on the recovery of lower-risk, higher-margin ounces primarily from its metallurgical plant located approximately 50 kilometers east of Johannesburg in Brakpan. The Company owns approximately 100% of its holding company, Ergo Mining Operations Proprietary Limited (EMO).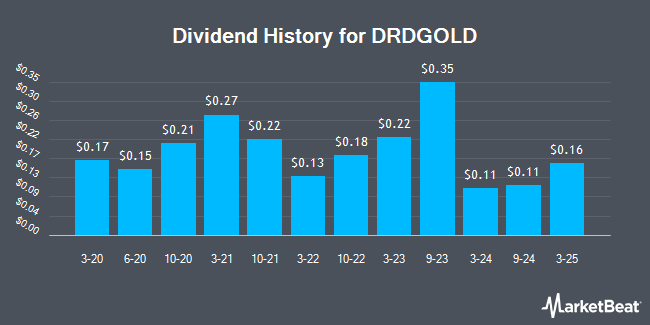 Receive News & Ratings for DRDGOLD Limited Daily - Enter your email address below to receive a concise daily summary of the latest news and analysts' ratings for DRDGOLD Limited and related companies with MarketBeat.com's FREE daily email newsletter.