Raymond James Financial Analysts Decrease Earnings Estimates for Slate Retail REIT (SRT)
Slate Retail REIT (TSE:SRT) – Equities research analysts at Raymond James Financial dropped their Q3 2017 earnings estimates for shares of Slate Retail REIT in a report issued on Wednesday. Raymond James Financial analyst J. Rodrigues now forecasts that the company will post earnings of $0.38 per share for the quarter, down from their previous estimate of $0.39. Raymond James Financial also issued estimates for Slate Retail REIT's Q4 2017 earnings at $0.39 EPS and FY2017 earnings at $1.54 EPS.
ILLEGAL ACTIVITY NOTICE: This article was first published by American Banking News and is owned by of American Banking News. If you are reading this article on another domain, it was copied illegally and reposted in violation of United States and international copyright & trademark laws. The correct version of this article can be read at https://www.americanbankingnews.com/2017/09/08/raymond-james-financial-analysts-decrease-earnings-estimates-for-slate-retail-reit-srt.html.
The business also recently declared a monthly dividend, which will be paid on Friday, September 15th. Investors of record on Thursday, August 31st will be given a dividend of $0.068 per share. The ex-dividend date is Tuesday, August 29th. This represents a $0.82 annualized dividend and a yield of Infinity.
About Slate Retail REIT
StarTek, Inc is a customer engagement business process outsourcing (BPO) services provider, delivering customer care solutions. The Company operates through three segments: Domestic, Nearshore and Offshore. As of December 31, 2016, its Domestic segment included the operations of 13 facilities in the United States and one facility in Canada; its Offshore segment included the operations of four facilities in the Philippines, and its Nearshore segment included the operations of two facilities in Honduras and one facility in Jamaica.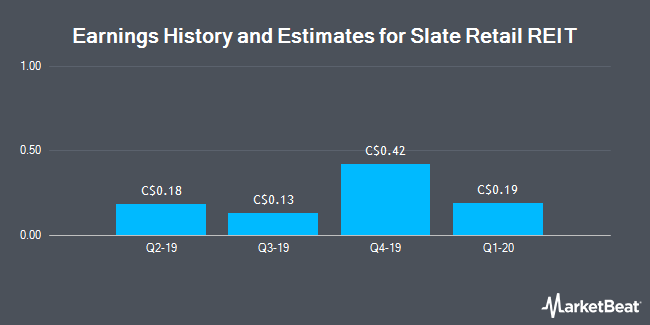 Receive News & Ratings for Slate Retail REIT Daily - Enter your email address below to receive a concise daily summary of the latest news and analysts' ratings for Slate Retail REIT and related companies with MarketBeat.com's FREE daily email newsletter.