Taglich Brothers Comments on Cemtrex Inc.'s Q1 2018 Earnings (CETX)
Cemtrex Inc. (NASDAQ:CETX) – Equities researchers at Taglich Brothers decreased their Q1 2018 earnings per share estimates for shares of Cemtrex in a report released on Wednesday. Taglich Brothers analyst J. Nobile now forecasts that the industrial products company will post earnings of $0.21 per share for the quarter, down from their previous forecast of $0.23. Taglich Brothers also issued estimates for Cemtrex's Q2 2018 earnings at $0.14 EPS, Q3 2018 earnings at $0.22 EPS, Q4 2018 earnings at $0.16 EPS, FY2018 earnings at $0.72 EPS, Q1 2019 earnings at $0.31 EPS, Q2 2019 earnings at $0.26 EPS, Q3 2019 earnings at $0.34 EPS and FY2019 earnings at $1.19 EPS.
Cemtrex (NASDAQ:CETX) last posted its quarterly earnings data on Monday, August 14th. The industrial products company reported $0.11 earnings per share (EPS) for the quarter, missing the Thomson Reuters' consensus estimate of $0.12 by $0.01. The firm had revenue of $27.81 million during the quarter, compared to analysts' expectations of $31.75 million. Cemtrex had a net margin of 4.05% and a return on equity of 19.22%.
TRADEMARK VIOLATION NOTICE: This report was published by American Banking News and is the sole property of of American Banking News. If you are viewing this report on another publication, it was stolen and reposted in violation of U.S. and international trademark and copyright legislation. The legal version of this report can be read at https://www.americanbankingnews.com/2017/09/11/taglich-brothers-comments-on-cemtrex-inc-s-q1-2018-earnings-cetx.html.
Separately, ValuEngine cut Cemtrex from a "strong-buy" rating to a "buy" rating in a report on Tuesday, June 6th.
Shares of Cemtrex (NASDAQ:CETX) opened at 3.15 on Monday. Cemtrex has a 12-month low of $2.71 and a 12-month high of $8.41. The company has a 50 day moving average price of $3.11 and a 200 day moving average price of $3.35. The stock has a market cap of $32.28 million, a P/E ratio of 6.79 and a beta of -0.43.
A number of large investors have recently added to or reduced their stakes in the business. Spark Investment Management LLC purchased a new position in Cemtrex in the first quarter valued at about $117,000. Dimensional Fund Advisors LP purchased a new position in Cemtrex in the second quarter valued at about $122,000. Finally, AJO LP purchased a new position in Cemtrex in the second quarter valued at about $268,000. 6.50% of the stock is currently owned by institutional investors.
About Cemtrex
Cemtrex, Inc is a diversified technology company, which provides solutions to industrial and manufacturing needs. The Company provides manufacturing services of electronic system assemblies; provides broad-based industrial services, instruments and emission monitors for industrial processes, and provides industrial air filtration and environmental control systems.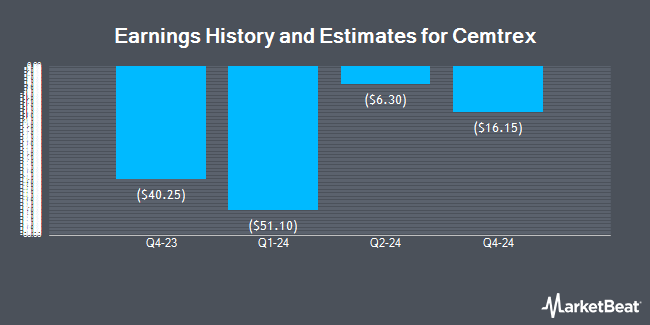 Receive News & Ratings for Cemtrex Inc. Daily - Enter your email address below to receive a concise daily summary of the latest news and analysts' ratings for Cemtrex Inc. and related companies with MarketBeat.com's FREE daily email newsletter.