UBS AG Upgrades Vivendi SA (VIVHY) to "Buy"
Vivendi SA (OTCMKTS:VIVHY) was upgraded by investment analysts at UBS AG from a "neutral" rating to a "buy" rating in a research note issued on Wednesday, StockTargetPrices.com reports.
A number of other research analysts have also recently issued reports on VIVHY. J P Morgan Chase & Co reissued a "neutral" rating on shares of Vivendi SA in a research note on Friday, September 1st. Barclays PLC raised Vivendi SA from an "underweight" rating to an "equal weight" rating in a research note on Friday, September 1st. One equities research analyst has rated the stock with a sell rating, three have assigned a hold rating and three have assigned a buy rating to the company's stock. The company currently has a consensus rating of "Hold" and an average target price of $22.00.
Shares of Vivendi SA (OTCMKTS:VIVHY) traded up 0.84% during midday trading on Wednesday, reaching $25.15. The company had a trading volume of 8,233 shares. The firm has a market cap of $31.38 billion, a P/E ratio of 56.52 and a beta of 0.51. Vivendi SA has a 52-week low of $17.12 and a 52-week high of $25.18. The company's 50-day moving average is $23.10 and its 200-day moving average is $21.16.
COPYRIGHT VIOLATION WARNING: This news story was originally posted by American Banking News and is the sole property of of American Banking News. If you are reading this news story on another domain, it was illegally stolen and republished in violation of U.S. & international copyright legislation. The original version of this news story can be read at https://www.americanbankingnews.com/2017/09/13/ubs-ag-upgrades-vivendi-sa-vivhy-to-buy.html.
Vivendi SA Company Profile
Vivendi SA is engaged in media and content businesses. The Company operates businesses throughout the media value chain, from talent discovery to the creation, production and distribution of content. Its segments include Universal Music Group, Canal+ Group, Gameloft, Vivendi Village, New Initiatives and Corporate.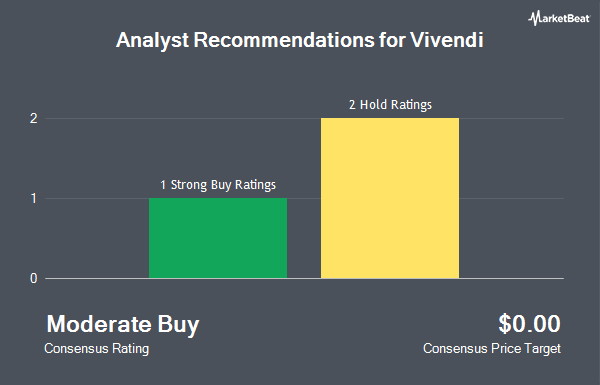 Receive News & Ratings for Vivendi SA Daily - Enter your email address below to receive a concise daily summary of the latest news and analysts' ratings for Vivendi SA and related companies with MarketBeat.com's FREE daily email newsletter.