Innergex Renewable Energy Inc Expected to Post Q3 2017 Earnings of $0.10 Per Share (INE)
Innergex Renewable Energy Inc (TSE:INE) – Equities research analysts at National Bank Financial issued their Q3 2017 earnings per share estimates for shares of Innergex Renewable Energy in a note issued to investors on Monday. National Bank Financial analyst R. Merer expects that the company will earn $0.10 per share for the quarter. National Bank Financial also issued estimates for Innergex Renewable Energy's Q4 2017 earnings at $0.08 EPS and FY2018 earnings at $0.46 EPS.
TRADEMARK VIOLATION NOTICE: This story was first published by American Banking News and is the property of of American Banking News. If you are accessing this story on another publication, it was stolen and reposted in violation of international copyright & trademark laws. The correct version of this story can be viewed at https://www.americanbankingnews.com/2017/09/14/innergex-renewable-energy-inc-expected-to-post-q3-2017-earnings-of-0-10-per-share-ine.html.
Separately, BMO Capital Markets lifted their target price on Innergex Renewable Energy from C$18.50 to C$19.00 in a research report on Friday, September 8th. Three research analysts have rated the stock with a hold rating and two have assigned a buy rating to the stock. Innergex Renewable Energy currently has a consensus rating of "Hold" and a consensus price target of C$17.00.
Innergex Renewable Energy (TSE INE) opened at 15.13 on Thursday. Innergex Renewable Energy has a 52-week low of $12.43 and a 52-week high of $15.72. The company has a market cap of $1.64 billion and a P/E ratio of 68.46. The stock's 50 day moving average price is $14.67 and its 200-day moving average price is $14.46.
The company also recently disclosed a quarterly dividend, which will be paid on Monday, October 16th. Investors of record on Friday, September 29th will be issued a $0.165 dividend. This represents a $0.66 annualized dividend and a dividend yield of 4.36%. The ex-dividend date of this dividend is Thursday, September 28th. This is an increase from Innergex Renewable Energy's previous quarterly dividend of $0.15.
In other news, Director Monique Mercier acquired 2,000 shares of the business's stock in a transaction that occurred on Tuesday, August 8th. The shares were purchased at an average price of C$14.34 per share, for a total transaction of C$28,680.00.
About Innergex Renewable Energy
Innergex Renewable Energy Inc is a Canada-based renewable power producer. The Company is a developer, owner and operator of renewable power-generating facilities with a focus on hydroelectric, wind power and solar photovoltaic (PV) projects. It operates through four segments: hydroelectric generation, wind power generation, solar power generation and site development.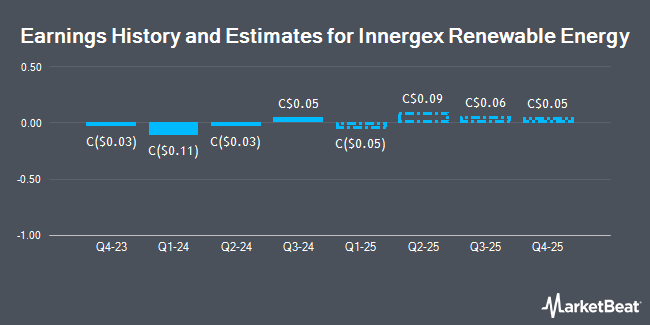 Receive News & Ratings for Innergex Renewable Energy Inc Daily - Enter your email address below to receive a concise daily summary of the latest news and analysts' ratings for Innergex Renewable Energy Inc and related companies with MarketBeat.com's FREE daily email newsletter.