Insider Buying: SThree Plc (STHR) Insider Purchases 57 Shares of Stock
SThree Plc (LON:STHR) insider Gary Elden acquired 57 shares of the stock in a transaction on Tuesday, September 12th. The stock was acquired at an average cost of GBX 333 ($4.30) per share, for a total transaction of £189.81 ($245.14).
Shares of SThree Plc (LON:STHR) traded up 0.84% on Thursday, hitting GBX 330.75. The company had a trading volume of 15,564 shares. SThree Plc has a 12 month low of GBX 221.00 and a 12 month high of GBX 338.00. The company has a 50-day moving average of GBX 320.28 and a 200 day moving average of GBX 312.93. The stock's market cap is GBX 425.67 million.
The business also recently disclosed a dividend, which will be paid on Friday, December 8th. Stockholders of record on Thursday, November 2nd will be issued a GBX 4.70 ($0.06) dividend. This represents a dividend yield of 1.58%. The ex-dividend date is Thursday, November 2nd.
ILLEGAL ACTIVITY WARNING: This article was first reported by American Banking News and is owned by of American Banking News. If you are accessing this article on another publication, it was illegally copied and republished in violation of international copyright and trademark law. The original version of this article can be accessed at https://www.americanbankingnews.com/2017/09/14/insider-buying-sthree-plc-sthr-insider-purchases-57-shares-of-stock.html.
A number of equities research analysts have weighed in on STHR shares. Liberum Capital reaffirmed a "buy" rating and issued a GBX 370 ($4.78) price objective on shares of SThree Plc in a report on Friday, June 16th. Credit Suisse Group reiterated an "outperform" rating on shares of SThree Plc in a research report on Wednesday, June 28th. Finally, Numis Securities Ltd reiterated a "hold" rating and set a GBX 320 ($4.13) price target on shares of SThree Plc in a research report on Tuesday, July 25th. Two investment analysts have rated the stock with a hold rating and three have given a buy rating to the stock. The stock currently has a consensus rating of "Buy" and a consensus price target of GBX 341 ($4.40).
About SThree Plc
SThree plc is an international staffing company, which provides specialist recruitment services in the science, technology, engineering and mathematics (STEM) industries. The Company provides permanent and contract staff to sectors, including information and communication technology (ICT), banking and finance, life sciences, engineering and energy.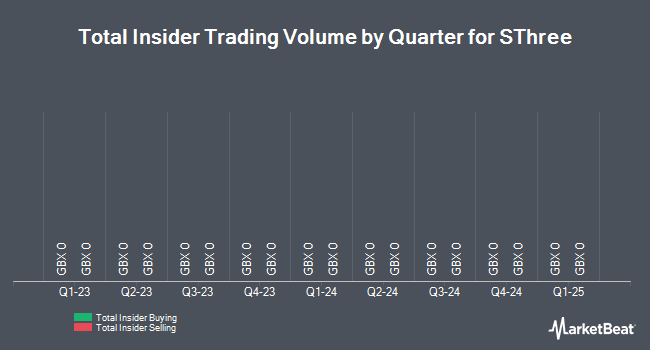 Receive News & Ratings for SThree Plc Daily - Enter your email address below to receive a concise daily summary of the latest news and analysts' ratings for SThree Plc and related companies with MarketBeat.com's FREE daily email newsletter.