Whitestone REIT (WSR) to Issue $0.10 Monthly Dividend
Whitestone REIT (NYSE:WSR) declared a monthly dividend on Wednesday, September 13th, Zacks reports. Shareholders of record on Wednesday, October 4th will be paid a dividend of 0.095 per share by the real estate investment trust on Thursday, October 12th. This represents a $1.14 annualized dividend and a yield of 8.64%. The ex-dividend date is Tuesday, October 3rd.
Whitestone REIT has a payout ratio of 109.6% indicating that the company cannot currently cover its dividend with earnings alone and is relying on its balance sheet to cover its dividend payments. Research analysts expect Whitestone REIT to earn $1.10 per share next year, which means the company may not be able to cover its $1.14 annual dividend with an expected future payout ratio of 103.6%.
Whitestone REIT (NYSE:WSR) opened at 13.03 on Thursday. Whitestone REIT has a one year low of $10.80 and a one year high of $14.78. The firm has a 50-day moving average of $12.84 and a 200 day moving average of $12.78. The company has a market capitalization of $501.95 million, a P/E ratio of 90.49 and a beta of 0.93.
Whitestone REIT (NYSE:WSR) last announced its earnings results on Wednesday, August 2nd. The real estate investment trust reported $0.31 EPS for the quarter, beating the Zacks' consensus estimate of $0.26 by $0.05. Whitestone REIT had a net margin of 4.36% and a return on equity of 1.69%. The business had revenue of $30.20 million during the quarter, compared to analysts' expectations of $30.68 million. During the same period in the prior year, the company earned $0.32 earnings per share. The firm's revenue was up 20.2% on a year-over-year basis. On average, equities analysts forecast that Whitestone REIT will post $0.28 EPS for the current fiscal year.
WSR has been the subject of a number of research reports. FBR & Co reaffirmed an "outperform" rating and set a $14.00 target price on shares of Whitestone REIT in a report on Tuesday, July 11th. ValuEngine raised shares of Whitestone REIT from a "hold" rating to a "buy" rating in a report on Thursday, August 3rd. Zacks Investment Research cut shares of Whitestone REIT from a "hold" rating to a "sell" rating in a report on Friday, August 18th. Ladenburg Thalmann Financial Services reiterated a "hold" rating on shares of Whitestone REIT in a research report on Monday, May 22nd. Finally, Maxim Group reiterated a "buy" rating and issued a $20.00 price target on shares of Whitestone REIT in a research report on Wednesday, June 14th. Two research analysts have rated the stock with a sell rating, two have given a hold rating, two have assigned a buy rating and one has issued a strong buy rating to the company's stock. The company has a consensus rating of "Hold" and a consensus price target of $14.25.
In other Whitestone REIT news, Director Paul T. Lambert bought 3,000 shares of the company's stock in a transaction on Tuesday, August 29th. The shares were bought at an average cost of $12.29 per share, for a total transaction of $36,870.00. Following the acquisition, the director now directly owns 51,918 shares in the company, valued at $638,072.22. The transaction was disclosed in a filing with the Securities & Exchange Commission, which is available at this hyperlink. 5.29% of the stock is owned by corporate insiders.
COPYRIGHT VIOLATION WARNING: This report was reported by American Banking News and is the sole property of of American Banking News. If you are reading this report on another website, it was illegally copied and reposted in violation of US & international trademark and copyright laws. The original version of this report can be accessed at https://www.americanbankingnews.com/2017/09/14/whitestone-reit-wsr-to-issue-0-10-monthly-dividend.html.
Whitestone REIT Company Profile
Whitestone REIT is a real estate investment trust. The Company is engaged in owning and operating commercial properties in culturally diverse markets in various metropolitan areas. The Company's acquisition targets are located in densely populated, culturally diverse neighborhoods, primarily in and around Austin, Chicago, Dallas-Fort Worth, Houston, Phoenix and San Antonio.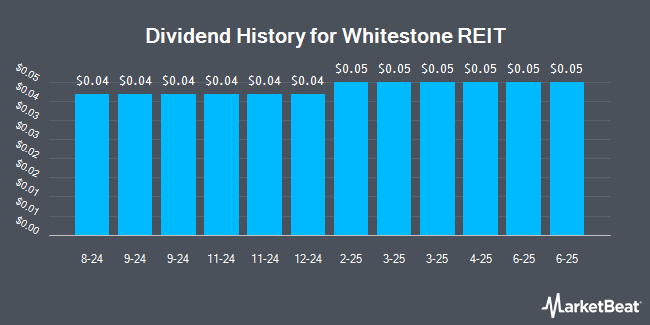 Receive News & Ratings for Whitestone REIT Daily - Enter your email address below to receive a concise daily summary of the latest news and analysts' ratings for Whitestone REIT and related companies with MarketBeat.com's FREE daily email newsletter.