Pembina Pipeline Corp (PPL) Given Average Rating of "Buy" by Brokerages
Pembina Pipeline Corp (TSE:PPL) (NYSE:PBA) has received an average recommendation of "Buy" from the ten ratings firms that are presently covering the stock, Marketbeat Ratings reports. Nine equities research analysts have rated the stock with a buy rating. The average 1-year price target among analysts that have covered the stock in the last year is C$49.25.
PPL has been the topic of a number of recent research reports. TD Securities raised their price objective on shares of Pembina Pipeline Corp from C$51.00 to C$52.00 and gave the company a "buy" rating in a research note on Thursday, August 3rd. AltaCorp Capital raised shares of Pembina Pipeline Corp from a "sector perform" rating to an "outperform" rating in a research note on Wednesday, July 19th.
Shares of Pembina Pipeline Corp (PPL) traded down 0.24% during midday trading on Friday, reaching $41.50. The company had a trading volume of 3,444,838 shares. The firm's 50 day moving average price is $40.79 and its 200-day moving average price is $42.66. Pembina Pipeline Corp has a 12 month low of $37.25 and a 12 month high of $44.65. The company has a market capitalization of $16.72 billion and a P/E ratio of 32.17.
The company also recently announced a monthly dividend, which will be paid on Sunday, October 15th. Shareholders of record on Sunday, October 15th will be issued a $0.17 dividend. The ex-dividend date of this dividend is Friday, September 22nd. This represents a $2.04 annualized dividend and a yield of 4.92%.
In other news, insider Michael H. Dilger bought 10,000 shares of the business's stock in a transaction on Monday, August 14th. The shares were bought at an average cost of C$32.32 per share, for a total transaction of C$323,200.00.
WARNING: "Pembina Pipeline Corp (PPL) Given Average Rating of "Buy" by Brokerages" was first published by American Banking News and is owned by of American Banking News. If you are accessing this piece on another domain, it was stolen and reposted in violation of United States & international copyright & trademark laws. The original version of this piece can be accessed at https://www.americanbankingnews.com/2017/09/17/pembina-pipeline-corp-ppl-given-average-rating-of-buy-by-brokerages.html.
About Pembina Pipeline Corp
Pembina Pipeline Corporation provides transportation and midstream services for the energy industry in North America. It operates through four segments: Conventional Pipelines, Oil Sands & Heavy Oil, Gas Services, and Midstream. The Conventional Pipelines segment operates approximately 10,000 kilometers of pipeline network that transports hydrocarbon products and extends across Alberta and parts of British Columbia, Saskatchewan, and North Dakota.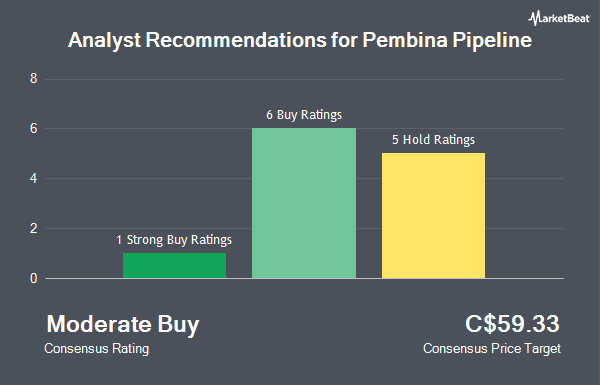 Receive News & Ratings for Pembina Pipeline Corp Daily - Enter your email address below to receive a concise daily summary of the latest news and analysts' ratings for Pembina Pipeline Corp and related companies with MarketBeat.com's FREE daily email newsletter.