Linda A. Southern-Heathcott Sells 1,490 Shares of Canadian Utilities Limited (CU) Stock
Canadian Utilities Limited (TSE:CU) Director Linda A. Southern-Heathcott sold 1,490 shares of the stock in a transaction on Tuesday, September 19th. The shares were sold at an average price of C$38.05, for a total value of C$56,694.50.
Shares of Canadian Utilities Limited (CU) traded up 0.11% during trading on Wednesday, reaching $38.10. The company's stock had a trading volume of 238,158 shares. Canadian Utilities Limited has a 1-year low of $34.83 and a 1-year high of $42.44. The company has a market capitalization of $10.25 billion and a PE ratio of 17.80. The stock has a 50 day moving average of $38.99 and a 200-day moving average of $39.80.
The firm also recently announced a quarterly dividend, which was paid on Friday, September 1st. Shareholders of record on Thursday, August 10th were given a $0.357 dividend. The ex-dividend date of this dividend was Tuesday, August 8th. This represents a $1.43 dividend on an annualized basis and a yield of 3.75%. This is an increase from Canadian Utilities Limited's previous quarterly dividend of $0.23.
COPYRIGHT VIOLATION WARNING: "Linda A. Southern-Heathcott Sells 1,490 Shares of Canadian Utilities Limited (CU) Stock" was first posted by American Banking News and is the property of of American Banking News. If you are viewing this story on another website, it was copied illegally and republished in violation of United States & international copyright & trademark law. The original version of this story can be accessed at https://www.americanbankingnews.com/2017/09/20/linda-a-southern-heathcott-sells-1490-shares-of-canadian-utilities-limited-cu-stock.html.
Separately, National Bank Financial downgraded Canadian Utilities Limited from an "outperform" rating to a "sector perform" rating and set a C$45.00 price objective on the stock. in a research report on Friday, July 28th. One analyst has rated the stock with a sell rating and four have given a hold rating to the stock. The stock currently has an average rating of "Hold" and a consensus target price of C$41.20.
About Canadian Utilities Limited
Canadian Utilities Limited is a global enterprise company. Its segments include Electricity, Pipeline & Liquids, and Corporate & Other. Its Electricity segment's activities are conducted through two regulated businesses; ATCO Electric Distribution and ATCO Electric Transmission, and three non-regulated businesses, ATCO Power, ATCO Power Australia and Alberta PowerLine (APL).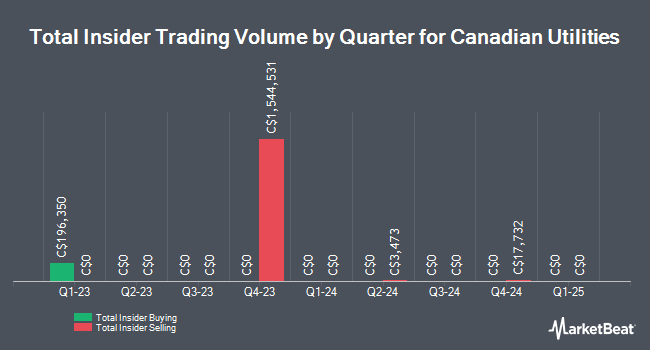 Receive News & Ratings for Canadian Utilities Limited Daily - Enter your email address below to receive a concise daily summary of the latest news and analysts' ratings for Canadian Utilities Limited and related companies with MarketBeat.com's FREE daily email newsletter.