Birchcliff Energy Ltd. (BIR) Receives Consensus Rating of "Buy" from Brokerages
Shares of Birchcliff Energy Ltd. (TSE:BIR) have been given a consensus rating of "Buy" by the nine brokerages that are presently covering the stock, MarketBeat Ratings reports. Four investment analysts have rated the stock with a buy rating and one has issued a strong buy rating on the company. The average twelve-month target price among brokers that have issued a report on the stock in the last year is C$11.69.
Several brokerages have recently commented on BIR. Raymond James Financial, Inc. boosted their price objective on Birchcliff Energy from C$9.75 to C$10.25 and gave the stock an "outperform" rating in a report on Friday, August 11th. National Bank Financial cut their price objective on Birchcliff Energy from C$10.00 to C$9.25 and set an "outperform" rating for the company in a report on Wednesday, August 2nd. Finally, Royal Bank Of Canada boosted their price objective on Birchcliff Energy from C$9.00 to C$11.00 in a report on Thursday, July 20th.
The firm also recently disclosed a quarterly dividend, which will be paid on Monday, October 2nd. Stockholders of record on Monday, October 2nd will be issued a dividend of $0.025 per share. This represents a $0.10 annualized dividend and a dividend yield of 1.66%. The ex-dividend date of this dividend is Wednesday, September 13th.
COPYRIGHT VIOLATION WARNING: This report was originally reported by American Banking News and is the sole property of of American Banking News. If you are viewing this report on another publication, it was illegally copied and reposted in violation of United States & international trademark & copyright laws. The legal version of this report can be viewed at https://www.americanbankingnews.com/2017/09/21/birchcliff-energy-ltd-bir-receives-consensus-rating-of-buy-from-brokerages.html.
Birchcliff Energy Company Profile
Birchcliff Energy Ltd. is an intermediate oil and natural gas company. The Company is engaged in the exploration for and the development, production and acquisition of petroleum and natural gas reserves in Western Canada. Its operations are concentrated within core area, the Peace River Arch, which is centered over 90 kilometers northwest of Grande Prairie, Alberta, adjacent to the Alberta/British Columbia border.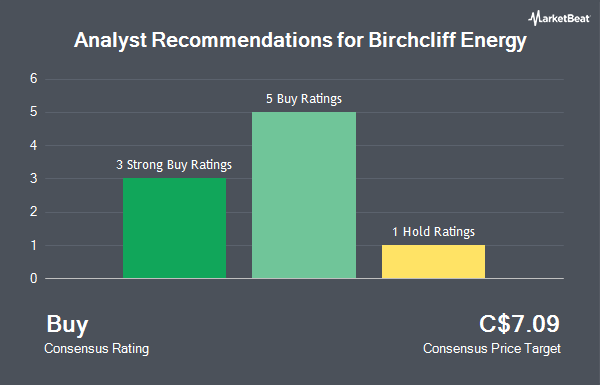 Receive News & Ratings for Birchcliff Energy Ltd. Daily - Enter your email address below to receive a concise daily summary of the latest news and analysts' ratings for Birchcliff Energy Ltd. and related companies with MarketBeat.com's FREE daily email newsletter.