Cormark Comments on Kinross Gold Co.'s Q1 2018 Earnings (K)
Kinross Gold Co. (TSE:K) (NYSE:KGC) – Research analysts at Cormark raised their Q1 2018 earnings per share (EPS) estimates for shares of Kinross Gold in a note issued to investors on Tuesday. Cormark analyst R. Gray now anticipates that the company will earn $0.02 per share for the quarter, up from their previous forecast of $0.01. Cormark also issued estimates for Kinross Gold's Q2 2018 earnings at $0.02 EPS, Q3 2018 earnings at $0.02 EPS, Q4 2018 earnings at $0.02 EPS and FY2018 earnings at $0.09 EPS.
Other equities analysts also recently issued research reports about the stock. BMO Capital Markets upgraded shares of Kinross Gold from a "market perform" rating to an "outperform" rating and upped their price objective for the company from C$3.75 to C$5.00 in a report on Monday, May 29th. National Bank Financial restated a "sector perform market weight" rating on shares of Kinross Gold in a report on Thursday, August 3rd. One analyst has rated the stock with a sell rating, one has issued a hold rating, four have issued a buy rating and one has assigned a strong buy rating to the company's stock. Kinross Gold currently has a consensus rating of "Buy" and a consensus target price of C$5.71.
COPYRIGHT VIOLATION WARNING: "Cormark Comments on Kinross Gold Co.'s Q1 2018 Earnings (K)" was first posted by American Banking News and is the property of of American Banking News. If you are accessing this story on another publication, it was illegally copied and reposted in violation of US and international trademark & copyright law. The legal version of this story can be read at https://www.americanbankingnews.com/2017/09/21/cormark-comments-on-kinross-gold-co-s-q1-2018-earnings-k.html.
Shares of Kinross Gold (TSE:K) traded down 3.36% during mid-day trading on Thursday, hitting $5.17. 1,167,208 shares of the stock were exchanged. The stock's 50 day moving average is $5.50 and its 200-day moving average is $5.23. The stock has a market cap of $6.45 billion and a PE ratio of 123.10. Kinross Gold has a 12 month low of $3.87 and a 12 month high of $6.29.
In other Kinross Gold news, insider Claude J.S. Schimper sold 25,000 shares of the company's stock in a transaction that occurred on Friday, August 18th. The stock was sold at an average price of C$5.59, for a total value of C$139,750.00.
Kinross Gold Company Profile
Kinross Gold Corporation, together with its subsidiaries, engages in the acquisition, exploration, and development of gold properties. The company's gold production and exploration activities are carried out principally in Canada, the United States, the Russian Federation, Brazil, Chile, Ghana, and Mauritania.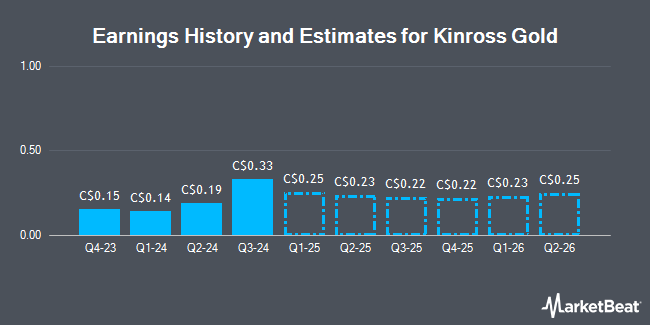 Receive News & Ratings for Kinross Gold Co. Daily - Enter your email address below to receive a concise daily summary of the latest news and analysts' ratings for Kinross Gold Co. and related companies with MarketBeat.com's FREE daily email newsletter.