LTC Properties, Inc. to Issue Monthly Dividend of $0.19 (LTC)
LTC Properties, Inc. (NYSE:LTC) declared a monthly dividend on Tuesday, October 3rd, Wall Street Journal reports. Shareholders of record on Thursday, December 21st will be given a dividend of 0.19 per share by the real estate investment trust on Friday, December 29th. This represents a $2.28 annualized dividend and a yield of 4.84%. The ex-dividend date is Wednesday, December 20th.
LTC Properties has raised its dividend by an average of 4.8% annually over the last three years and has increased its dividend every year for the last 5 years. LTC Properties has a payout ratio of 74.3% meaning its dividend is sufficiently covered by earnings. Analysts expect LTC Properties to earn $2.20 per share next year, which means the company may not be able to cover its $2.28 annual dividend with an expected future payout ratio of 103.6%.
LTC Properties (LTC) traded down 0.08% on Tuesday, reaching $47.06. 231,134 shares of the company's stock were exchanged. The firm has a 50 day moving average price of $47.93 and a 200 day moving average price of $48.85. LTC Properties has a one year low of $43.17 and a one year high of $52.85. The firm has a market cap of $1.86 billion, a PE ratio of 20.69 and a beta of 0.16.
LTC Properties (NYSE:LTC) last released its earnings results on Wednesday, August 9th. The real estate investment trust reported $0.79 earnings per share for the quarter, topping the Zacks' consensus estimate of $0.78 by $0.01. The business had revenue of $42.47 million for the quarter, compared to analyst estimates of $35.08 million. LTC Properties had a net margin of 53.36% and a return on equity of 11.99%. On average, equities analysts anticipate that LTC Properties will post $2.18 earnings per share for the current year.
ILLEGAL ACTIVITY NOTICE: This article was first reported by American Banking News and is the sole property of of American Banking News. If you are viewing this article on another website, it was stolen and reposted in violation of United States and international trademark and copyright laws. The correct version of this article can be accessed at https://www.americanbankingnews.com/2017/10/03/ltc-properties-inc-to-issue-monthly-dividend-of-0-19-ltc.html.
A number of brokerages recently commented on LTC. BidaskClub raised LTC Properties from a "sell" rating to a "hold" rating in a research note on Saturday, August 26th. Zacks Investment Research cut LTC Properties from a "hold" rating to a "sell" rating in a report on Tuesday, August 1st. BMO Capital Markets downgraded LTC Properties from a "market perform" rating to an "underperform" rating and cut their target price for the stock from $50.00 to $44.00 in a research note on Friday, August 11th. Capital One Financial Corporation assumed coverage on LTC Properties in a research note on Monday, September 25th. They issued an "overweight" rating and a $50.00 target price for the company. Finally, Royal Bank Of Canada reaffirmed a "hold" rating and issued a $50.00 target price on shares of LTC Properties in a research note on Tuesday, June 27th. One analyst has rated the stock with a sell rating, eight have assigned a hold rating and three have assigned a buy rating to the company's stock. LTC Properties currently has a consensus rating of "Hold" and a consensus target price of $50.50.
About LTC Properties
LTC Properties Inc is a healthcare real estate investment trust (REIT). The Company invests in senior housing and healthcare properties through sale-leaseback transactions, mortgage financing and structured finance solutions, including mezzanine lending. It invests in various properties, including Skilled nursing facilities (SNF), Assisted living facilities (ALF), Independent living facilities (ILF), Memory care facilities (MC) and Range of care facilities (ROC).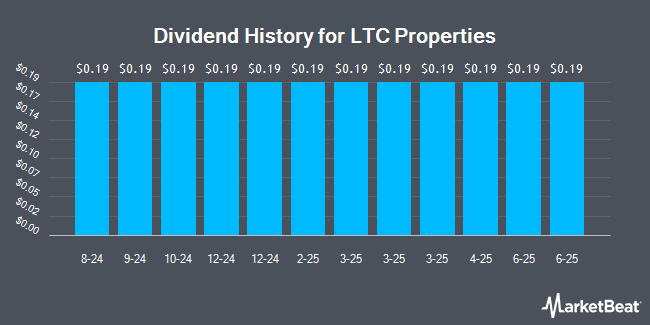 Receive News & Ratings for LTC Properties Inc. Daily - Enter your email address below to receive a concise daily summary of the latest news and analysts' ratings for LTC Properties Inc. and related companies with MarketBeat.com's FREE daily email newsletter.