Brokers Offer Predictions for TFI International Inc's Q3 2017 Earnings (TFI)
TFI International Inc (TSE:TFI) – Investment analysts at National Bank Financial dropped their Q3 2017 earnings per share (EPS) estimates for shares of TFI International in a research report issued to clients and investors on Monday. National Bank Financial analyst C. Doerksen now expects that the company will post earnings per share of $0.48 for the quarter, down from their previous estimate of $0.54.
COPYRIGHT VIOLATION NOTICE: "Brokers Offer Predictions for TFI International Inc's Q3 2017 Earnings (TFI)" was first posted by American Banking News and is owned by of American Banking News. If you are reading this story on another domain, it was illegally stolen and reposted in violation of United States & international copyright & trademark legislation. The original version of this story can be read at https://www.americanbankingnews.com/2017/10/04/brokers-offer-predictions-for-tfi-international-incs-q3-2017-earnings-tfi-2.html.
Shares of TFI International (TSE:TFI) opened at 35.00 on Wednesday. The firm has a 50-day moving average of $34.12 and a 200 day moving average of $28.21. TFI International has a one year low of $18.94 and a one year high of $35.57.
TFI International Company Profile
TFI International Inc, formerly TransForce Inc, is engaged in transportation and logistics services across the United States, Canada and Mexico. The Company's segments include Package and Courier, Less-Than-Truckload, Truckload and Logistics. The Package and Courier segment consists of pickup, transport and delivery of items across North America.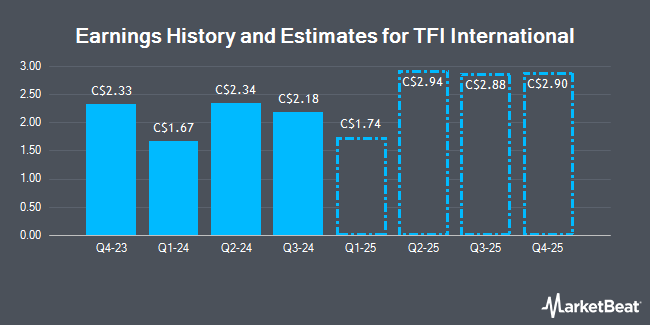 Receive News & Ratings for TFI International Inc Daily - Enter your email address below to receive a concise daily summary of the latest news and analysts' ratings for TFI International Inc and related companies with MarketBeat.com's FREE daily email newsletter.