WH Smith Plc (SMWH) Given Average Rating of "Hold" by Brokerages
WH Smith Plc (LON:SMWH) has earned a consensus rating of "Hold" from the eleven ratings firms that are currently covering the stock, MarketBeat Ratings reports. One research analyst has rated the stock with a sell rating, five have assigned a hold rating and five have issued a buy rating on the company. The average twelve-month target price among brokers that have issued ratings on the stock in the last year is GBX 1,805.10 ($23.94).
A number of research analysts have recently commented on SMWH shares. Barclays PLC reiterated an "overweight" rating and set a GBX 1,990 ($26.40) price target on shares of WH Smith Plc in a report on Monday, September 25th. Deutsche Bank AG cut WH Smith Plc to a "hold" rating and set a GBX 1,950 ($25.87) price objective for the company. in a research report on Friday, September 8th. Peel Hunt restated an "add" rating and issued a GBX 1,850 ($24.54) price objective on shares of WH Smith Plc in a research note on Wednesday, August 30th. Investec reaffirmed a "buy" rating and set a GBX 2,100 ($27.86) target price on shares of WH Smith Plc in a research report on Friday, August 25th. Finally, Royal Bank Of Canada reiterated an "outperform" rating on shares of WH Smith Plc in a research note on Monday, August 14th.
COPYRIGHT VIOLATION NOTICE: This story was first published by American Banking News and is owned by of American Banking News. If you are accessing this story on another site, it was copied illegally and reposted in violation of U.S. and international copyright & trademark law. The original version of this story can be viewed at https://www.americanbankingnews.com/2017/10/04/wh-smith-plc-smwh-given-average-rating-of-hold-by-brokerages.html.
Shares of WH Smith Plc (SMWH) traded down 0.29% on Wednesday, hitting GBX 2079.00. 279,890 shares of the stock traded hands. WH Smith Plc has a 12-month low of GBX 1,398.00 and a 12-month high of GBX 2,095.00. The stock has a 50-day moving average price of GBX 1,914.84 and a 200 day moving average price of GBX 1,798.44. The stock's market cap is GBX 2.31 billion.
About WH Smith Plc
WH Smith PLC is a United Kingdom-based retailer in convenience, books and news for travelling customers. The Company is a high street stationer, bookseller and newsagent. The Company operates through two segments: High Street and Travel. The Company's Travel business sells its products to cater for people on the move or in need of a convenience offer.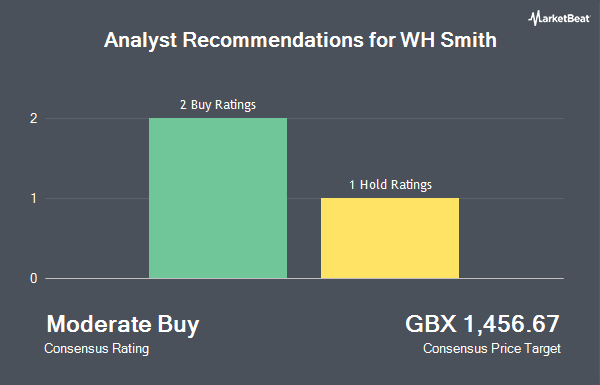 Receive News & Ratings for WH Smith Plc Daily - Enter your email address below to receive a concise daily summary of the latest news and analysts' ratings for WH Smith Plc and related companies with MarketBeat.com's FREE daily email newsletter.