Taylor Devices, Inc. (TAYD) Scheduled to Post Earnings on Thursday
Taylor Devices, Inc. (NASDAQ:TAYD) is scheduled to post its quarterly earnings results on Thursday, October 12th.
Shares of Taylor Devices, Inc. (NASDAQ TAYD) opened at 13.00 on Thursday. The company has a 50-day moving average price of $11.35 and a 200-day moving average price of $12.84. The stock has a market capitalization of $44.90 million, a price-to-earnings ratio of 19.70 and a beta of 0.86. Taylor Devices, Inc. has a 52-week low of $10.62 and a 52-week high of $19.98.
Separately, TheStreet downgraded Taylor Devices from a "b-" rating to a "c+" rating in a report on Tuesday, August 22nd.
WARNING: This story was published by American Banking News and is owned by of American Banking News. If you are reading this story on another publication, it was stolen and republished in violation of US and international copyright & trademark legislation. The correct version of this story can be read at https://www.americanbankingnews.com/2017/10/05/taylor-devices-inc-tayd-scheduled-to-post-earnings-on-thursday.html.
About Taylor Devices
Taylor Devices, Inc is engaged in the design, development, manufacture and marketing of shock absorption, rate control and energy storage devices for use in various types of machinery, equipment and structures. The Company's Seismic Dampers are designed to ameliorate the effects of earthquake tremors on structures.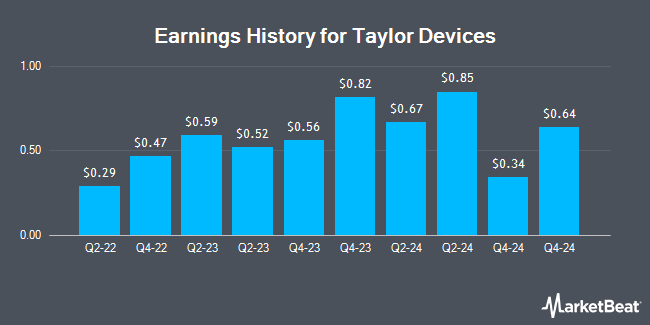 Receive News & Ratings for Taylor Devices Inc. Daily - Enter your email address below to receive a concise daily summary of the latest news and analysts' ratings for Taylor Devices Inc. and related companies with MarketBeat.com's FREE daily email newsletter.