Sabine Royalty Trust (SBR) Plans Monthly Dividend of $0.15
Sabine Royalty Trust (NYSE:SBR) declared a monthly dividend on Friday, October 6th, Wall Street Journal reports. Stockholders of record on Monday, October 16th will be given a dividend of 0.1509 per share by the energy company on Monday, October 30th. This represents a $1.81 annualized dividend and a dividend yield of 4.48%. The ex-dividend date is Friday, October 13th.
Sabine Royalty Trust has decreased its dividend by an average of 21.0% per year over the last three years.
Sabine Royalty Trust (NYSE:SBR) traded up 0.37% during trading on Friday, hitting $40.45. The stock had a trading volume of 9,111 shares. The firm has a market capitalization of $589.72 million, a PE ratio of 17.79 and a beta of 0.26. The firm has a 50 day moving average price of $39.91 and a 200-day moving average price of $38.20. Sabine Royalty Trust has a 1-year low of $33.46 and a 1-year high of $41.86.
Sabine Royalty Trust (NYSE:SBR) last issued its earnings results on Wednesday, August 9th. The energy company reported $0.54 earnings per share (EPS) for the quarter. Sabine Royalty Trust had a net margin of 93.10% and a return on equity of 695.91%. The business had revenue of $8.58 million for the quarter.
Separately, BidaskClub lowered shares of Sabine Royalty Trust from a "buy" rating to a "hold" rating in a research report on Thursday, July 13th.
ILLEGAL ACTIVITY NOTICE: "Sabine Royalty Trust (SBR) Plans Monthly Dividend of $0.15" was reported by American Banking News and is owned by of American Banking News. If you are reading this story on another publication, it was illegally stolen and reposted in violation of international copyright and trademark law. The correct version of this story can be viewed at https://www.americanbankingnews.com/2017/10/06/sabine-royalty-trust-sbr-plans-monthly-dividend-of-0-15.html.
A hedge fund recently raised its stake in Sabine Royalty Trust stock. State Street Corp boosted its holdings in Sabine Royalty Trust (NYSE:SBR) by 1.4% in the 2nd quarter, according to its most recent Form 13F filing with the Securities & Exchange Commission. The fund owned 10,240 shares of the energy company's stock after purchasing an additional 140 shares during the period. State Street Corp owned approximately 0.07% of Sabine Royalty Trust worth $397,000 at the end of the most recent reporting period. 8.81% of the stock is owned by hedge funds and other institutional investors.
About Sabine Royalty Trust
Sabine Royalty Trust (the Trust) is an express trust. The Royalty Properties are the assets of the Trust. The Royalty Properties constitute interests in gross production of oil, gas and other minerals free of the costs of production. Southwest Bank acts as trustee of the Trust. The Royalty Properties consist of royalty and mineral interests, including landowner's royalties, overriding royalty interests, minerals (other than executive rights, bonuses and delay rentals), production payments and any other similar, non-participatory interest, in certain producing and proved undeveloped oil and gas properties located in Florida, Louisiana, Mississippi, New Mexico, Oklahoma and Texas.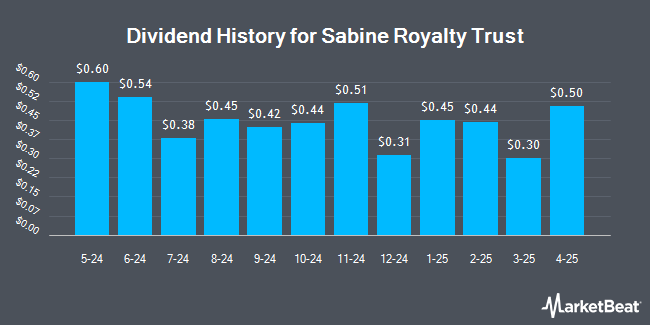 Receive News & Ratings for Sabine Royalty Trust Daily - Enter your email address below to receive a concise daily summary of the latest news and analysts' ratings for Sabine Royalty Trust and related companies with MarketBeat.com's FREE daily email newsletter.