Realty Income Corporation (O) Declares $0.21 Nov 17 Dividend
Realty Income Corporation (NYSE:O) declared a nov 17 dividend on Tuesday, October 10th, RTT News reports. Shareholders of record on Wednesday, November 1st will be paid a dividend of 0.212 per share by the real estate investment trust on Wednesday, November 15th. The ex-dividend date of this dividend is Tuesday, October 31st.
Realty Income Corporation has increased its dividend by an average of 3.7% annually over the last three years and has raised its dividend annually for the last 21 consecutive years. Realty Income Corporation has a payout ratio of 84.7% indicating that its dividend is currently covered by earnings, but may not be in the future if the company's earnings decline. Equities research analysts expect Realty Income Corporation to earn $1.24 per share next year, which means the company may not be able to cover its $2.54 annual dividend with an expected future payout ratio of 204.8%.
Shares of Realty Income Corporation (NYSE O) traded up 0.14% on Tuesday, reaching $56.61. The company's stock had a trading volume of 1,531,592 shares. Realty Income Corporation has a 1-year low of $52.72 and a 1-year high of $63.60. The company has a market capitalization of $15.52 billion, a price-to-earnings ratio of 48.43 and a beta of 0.32. The stock has a 50-day moving average price of $57.96 and a 200-day moving average price of $57.28.
Realty Income Corporation (NYSE:O) last posted its quarterly earnings results on Wednesday, July 26th. The real estate investment trust reported $0.76 earnings per share for the quarter, hitting the Zacks' consensus estimate of $0.76. Realty Income Corporation had a net margin of 29.19% and a return on equity of 5.14%. The business had revenue of $300.20 million for the quarter, compared to the consensus estimate of $289.86 million. During the same period in the prior year, the business posted $0.70 earnings per share. Realty Income Corporation's revenue for the quarter was up 10.8% compared to the same quarter last year. On average, equities research analysts forecast that Realty Income Corporation will post $1.19 EPS for the current year.
Several research firms have commented on O. UBS AG raised Realty Income Corporation from a "sell" rating to a "neutral" rating and raised their price target for the company from $52.00 to $57.00 in a research report on Friday, September 8th. Ladenburg Thalmann Financial Services reaffirmed a "hold" rating on shares of Realty Income Corporation in a research report on Thursday, July 27th. BidaskClub raised Realty Income Corporation from a "sell" rating to a "hold" rating in a research report on Saturday, June 17th. Morgan Stanley raised their price target on Realty Income Corporation from $91.00 to $95.00 and gave the company an "overweight" rating in a research report on Monday, July 17th. Finally, Canaccord Genuity began coverage on Realty Income Corporation in a research report on Tuesday, July 18th. They issued a "buy" rating and a $61.00 price target on the stock. Two investment analysts have rated the stock with a sell rating, six have given a hold rating and four have assigned a buy rating to the company's stock. The stock has a consensus rating of "Hold" and an average target price of $64.27.
ILLEGAL ACTIVITY NOTICE: This piece of content was first published by American Banking News and is owned by of American Banking News. If you are accessing this piece of content on another publication, it was illegally stolen and reposted in violation of U.S. & international copyright and trademark law. The correct version of this piece of content can be accessed at https://www.americanbankingnews.com/2017/10/10/realty-income-corporation-o-declares-0-21-nov-17-dividend.html.
In other news, Director Gregory Mclaughlin sold 3,200 shares of Realty Income Corporation stock in a transaction that occurred on Tuesday, September 19th. The shares were sold at an average price of $58.85, for a total value of $188,320.00. Following the completion of the transaction, the director now owns 15,986 shares in the company, valued at $940,776.10. The transaction was disclosed in a filing with the Securities & Exchange Commission, which is accessible through this hyperlink. Insiders own 0.30% of the company's stock.
About Realty Income Corporation
Realty Income Corporation is a real estate investment trust (REIT). The Company is engaged in in-house acquisition, portfolio management, asset management, credit research, real estate research, legal, finance and accounting, information technology and capital markets capabilities. As of December 31, 2016, the Company owned a diversified portfolio of 4,944 properties located in 49 states and Puerto Rico, with over 83.0 million square feet of leasable space leased to 248 different commercial tenants doing business in 47 separate industries.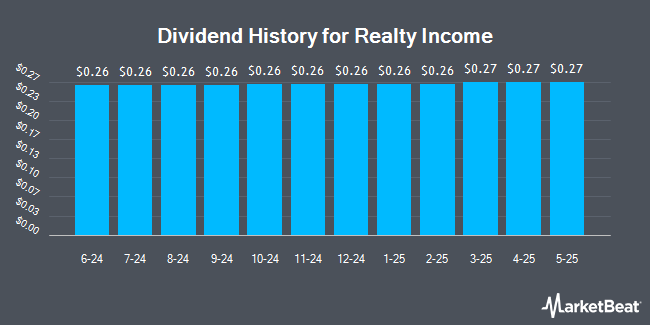 Receive News & Ratings for Realty Income Corporation Daily - Enter your email address below to receive a concise daily summary of the latest news and analysts' ratings for Realty Income Corporation and related companies with MarketBeat.com's FREE daily email newsletter.