VOXX International Corporation (VOXX) Releases Earnings Results, Misses Expectations By $0.73 EPS
VOXX International Corporation (NASDAQ:VOXX) released its earnings results on Tuesday. The auto parts company reported ($0.74) EPS for the quarter, missing the Zacks' consensus estimate of ($0.01) by ($0.73), Briefing.com reports. VOXX International Corporation had a return on equity of 1.45% and a net margin of 0.83%. The firm had revenue of $113.50 million for the quarter, compared to analyst estimates of $163.00 million. During the same period last year, the firm earned $0.12 EPS. The company's revenue for the quarter was down 4.1% compared to the same quarter last year.
VOXX International Corporation (VOXX) opened at 8.60 on Wednesday. VOXX International Corporation has a 12 month low of $3.10 and a 12 month high of $9.00. The stock has a market capitalization of $207.78 million, a PE ratio of 37.39 and a beta of 0.91. The company's 50-day moving average price is $8.14 and its 200 day moving average price is $6.97.
A number of institutional investors have recently bought and sold shares of VOXX. State Street Corp lifted its position in VOXX International Corporation by 1,731.7% during the 2nd quarter. State Street Corp now owns 230,760 shares of the auto parts company's stock worth $1,893,000 after acquiring an additional 218,162 shares during the period. California State Teachers Retirement System acquired a new stake in VOXX International Corporation during the 2nd quarter worth approximately $291,000. Finally, The Manufacturers Life Insurance Company acquired a new stake in VOXX International Corporation during the 2nd quarter worth approximately $129,000. 59.04% of the stock is owned by institutional investors.
A number of equities research analysts recently commented on VOXX shares. Zacks Investment Research downgraded VOXX International Corporation from a "buy" rating to a "hold" rating in a report on Wednesday, July 19th. Cowen and Company reaffirmed a "hold" rating and set a $7.00 target price on shares of VOXX International Corporation in a report on Friday, July 14th.
ILLEGAL ACTIVITY WARNING: This piece of content was published by American Banking News and is the sole property of of American Banking News. If you are accessing this piece of content on another site, it was illegally copied and reposted in violation of US & international copyright & trademark laws. The correct version of this piece of content can be viewed at https://www.americanbankingnews.com/2017/10/10/voxx-international-corporation-voxx-posts-earnings-results-misses-estimates-by-0-73-eps.html.
VOXX International Corporation Company Profile
VOXX International Corporation is an international manufacturer and distributor in the automotive, audio and consumer accessories industries. The Company's segments include Automotive, Premium Audio and Consumer Accessories. The Automotive segment designs, manufactures, distributes and markets rear-seat entertainment devices, satellite radio products, remote start systems, digital television tuners, mobile antennas, mobile multimedia devices, car link-smartphone telematics application, collision avoidance systems and others.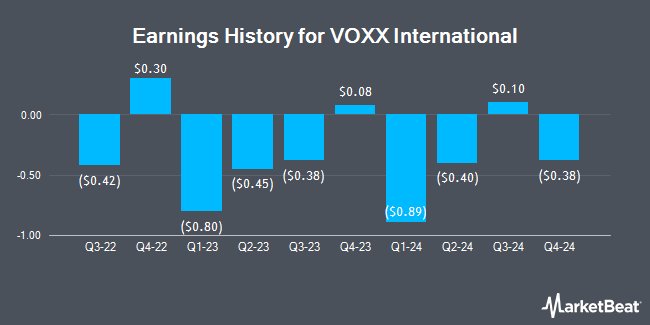 Receive News & Ratings for VOXX International Corporation Daily - Enter your email address below to receive a concise daily summary of the latest news and analysts' ratings for VOXX International Corporation and related companies with MarketBeat.com's FREE daily email newsletter.