Entertainment One Ltd (ETO) Receives Consensus Rating of "Buy" from Analysts
Shares of Entertainment One Ltd (LON:ETO) have been assigned a consensus rating of "Buy" from the ten ratings firms that are presently covering the stock, MarketBeat Ratings reports. Five investment analysts have rated the stock with a hold recommendation and five have assigned a buy recommendation to the company. The average 12-month target price among brokers that have issued a report on the stock in the last year is GBX 265.88 ($3.50).
A number of research analysts have weighed in on the company. J P Morgan Chase & Co lifted their target price on Entertainment One from GBX 269 ($3.54) to GBX 331 ($4.35) and gave the company an "overweight" rating in a report on Friday, October 6th. Peel Hunt reaffirmed a "hold" rating and set a GBX 240 ($3.16) target price on shares of Entertainment One in a report on Wednesday, September 27th. Citigroup Inc. reaffirmed a "buy" rating and set a GBX 295 ($3.88) target price on shares of Entertainment One in a report on Tuesday, September 26th. Finally, Credit Suisse Group reaffirmed a "neutral" rating on shares of Entertainment One in a report on Friday, July 21st.
ILLEGAL ACTIVITY WARNING: This article was posted by American Banking News and is owned by of American Banking News. If you are viewing this article on another site, it was illegally copied and reposted in violation of US & international trademark & copyright law. The correct version of this article can be viewed at https://www.americanbankingnews.com/2017/10/11/entertainment-one-ltd-eto-receives-consensus-rating-of-buy-from-analysts-2.html.
In other news, insider Mark William Opzoomer bought 5,000 shares of the business's stock in a transaction on Thursday, September 28th. The stock was acquired at an average price of GBX 255 ($3.35) per share, with a total value of £12,750 ($16,763.08).
Entertainment One (ETO) remained flat at GBX 285.90 during trading on Wednesday. 596,299 shares of the stock traded hands. The company has a 50-day moving average price of GBX 254.44 and a 200 day moving average price of GBX 241.02. The company's market cap is GBX 1.22 billion. Entertainment One has a one year low of GBX 210.50 and a one year high of GBX 287.10.
Entertainment One Company Profile
Entertainment One Ltd is a Canada-based independent entertainment company focused on the acquisition, production and distribution of television, family, film and music content rights across all media across the world. The Company's segments include Television, Family and Film. The Television segment is engaged in the production, acquisition and exploitation of television and music content rights across all media.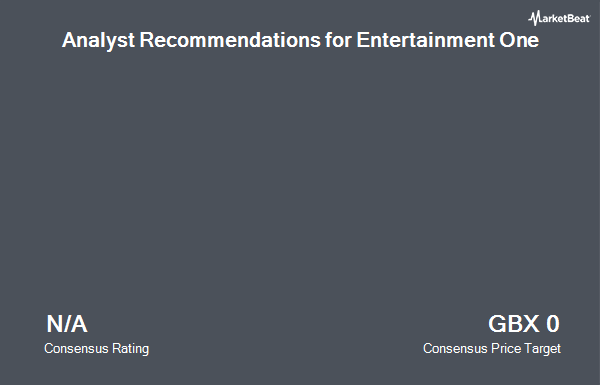 Receive News & Ratings for Entertainment One Ltd Daily - Enter your email address below to receive a concise daily summary of the latest news and analysts' ratings for Entertainment One Ltd and related companies with MarketBeat.com's FREE daily email newsletter.