Gladstone Land Corporation (LAND) Declares Monthly Dividend of $0.04
Gladstone Land Corporation (NASDAQ:LAND) announced a monthly dividend on Wednesday, October 11th, Wall Street Journal reports. Stockholders of record on Tuesday, December 19th will be given a dividend of 0.0441 per share by the real estate investment trust on Friday, December 29th. This represents a $0.53 annualized dividend and a dividend yield of 3.87%. The ex-dividend date of this dividend is Monday, December 18th.
Gladstone Land Corporation (LAND) traded up 0.37% during midday trading on Wednesday, hitting $13.68. 41,521 shares of the stock traded hands. The stock has a market cap of $164.31 million, a PE ratio of 297.39 and a beta of 1.00. The company has a 50-day moving average of $13.34 and a 200-day moving average of $12.01. Gladstone Land Corporation has a 12 month low of $9.70 and a 12 month high of $14.09.
Gladstone Land Corporation (NASDAQ:LAND) last released its earnings results on Tuesday, August 8th. The real estate investment trust reported $0.14 EPS for the quarter, missing the Zacks' consensus estimate of $0.18 by ($0.04). Gladstone Land Corporation had a return on equity of 0.57% and a net margin of 2.58%. The firm had revenue of $6.00 million for the quarter. On average, equities research analysts anticipate that Gladstone Land Corporation will post $0.06 earnings per share for the current year.
An institutional investor recently raised its position in Gladstone Land Corporation stock. Northern Trust Corp boosted its stake in shares of Gladstone Land Corporation (NASDAQ:LAND) by 16.8% in the 2nd quarter, according to the company in its most recent disclosure with the Securities and Exchange Commission. The institutional investor owned 53,439 shares of the real estate investment trust's stock after acquiring an additional 7,673 shares during the quarter. Northern Trust Corp owned 0.45% of Gladstone Land Corporation worth $624,000 at the end of the most recent reporting period. 21.11% of the stock is currently owned by hedge funds and other institutional investors.
A number of equities research analysts recently commented on the company. Zacks Investment Research downgraded Gladstone Land Corporation from a "hold" rating to a "sell" rating in a report on Wednesday, July 12th. Ladenburg Thalmann Financial Services reaffirmed a "buy" rating and set a $14.00 target price (up previously from $13.00) on shares of Gladstone Land Corporation in a report on Monday, September 18th. They noted that the move was a valuation call.
TRADEMARK VIOLATION WARNING: "Gladstone Land Corporation (LAND) Declares Monthly Dividend of $0.04" was first published by American Banking News and is the sole property of of American Banking News. If you are viewing this article on another website, it was illegally copied and reposted in violation of US & international copyright and trademark law. The original version of this article can be accessed at https://www.americanbankingnews.com/2017/10/11/gladstone-land-corporation-land-declares-monthly-dividend-of-0-04.html.
Gladstone Land Corporation Company Profile
Gladstone Land Corporation is an agricultural real estate investment trust (REIT). The Company is engaged in the business of owning and leasing farmland. The Company also owns various farm-related facilities, such as cooling facilities, buildings utilized for the storage and assembly of boxes for shipping produce (box barns), packinghouses, processing facilities and various storage facilities.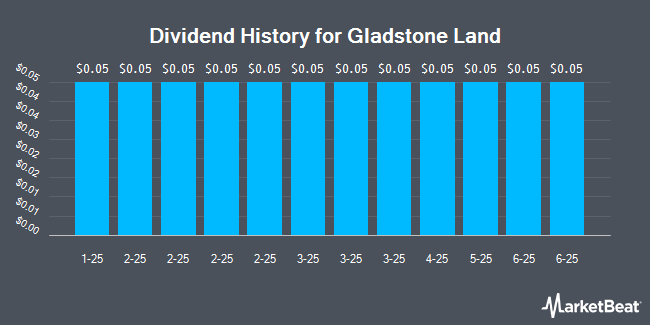 Receive News & Ratings for Gladstone Land Corporation Daily - Enter your email address below to receive a concise daily summary of the latest news and analysts' ratings for Gladstone Land Corporation and related companies with MarketBeat.com's FREE daily email newsletter.