Oramed Pharmaceuticals Inc. (ORMP) Expected to Post Quarterly Sales of $610,000.00
Wall Street brokerages expect Oramed Pharmaceuticals Inc. (NASDAQ:ORMP) to report $610,000.00 in sales for the current fiscal quarter, Zacks reports. Two analysts have issued estimates for Oramed Pharmaceuticals' earnings, with the highest sales estimate coming in at $620,000.00 and the lowest estimate coming in at $600,000.00. Oramed Pharmaceuticals posted sales of -$930,000.00 in the same quarter last year, which would indicate a positive year-over-year growth rate of 165.6%. The company is scheduled to issue its next earnings results on Friday, November 24th.
On average, analysts expect that Oramed Pharmaceuticals will report full-year sales of $610,000.00 for the current fiscal year, with estimates ranging from $2.44 million to $2.46 million. For the next financial year, analysts anticipate that the firm will report sales of $2.40 million per share, with estimates ranging from $2.00 million to $2.80 million. Zacks' sales averages are an average based on a survey of sell-side research firms that follow Oramed Pharmaceuticals.
Several research analysts have issued reports on the company. HC Wainwright reiterated a "buy" rating and issued a $25.00 price objective on shares of Oramed Pharmaceuticals in a research report on Thursday, October 5th. ValuEngine upgraded Oramed Pharmaceuticals from a "sell" rating to a "hold" rating in a research report on Wednesday, September 6th.
Shares of Oramed Pharmaceuticals (
ORMP
) opened at 10.73 on Wednesday. Oramed Pharmaceuticals has a one year low of $5.70 and a one year high of $11.34. The stock's market cap is $142.92 million. The company has a 50-day moving average of $9.45 and a 200 day moving average of $8.13.
TRADEMARK VIOLATION WARNING: This piece was originally posted by American Banking News and is owned by of American Banking News. If you are viewing this piece on another domain, it was stolen and republished in violation of United States & international trademark & copyright law. The correct version of this piece can be accessed at https://www.americanbankingnews.com/2017/10/11/oramed-pharmaceuticals-inc-ormp-expected-to-post-quarterly-sales-of-610000-00-2.html.
In other news, Director Xiaopeng Li purchased 89,636 shares of the company's stock in a transaction dated Wednesday, August 2nd. The stock was acquired at an average price of $8.50 per share, for a total transaction of $761,906.00. Following the completion of the transaction, the director now directly owns 206,350 shares in the company, valued at approximately $1,753,975. The acquisition was disclosed in a document filed with the SEC, which is accessible through this link. Company insiders own 27.50% of the company's stock.
An institutional investor recently raised its position in Oramed Pharmaceuticals stock. Wells Fargo & Company MN grew its position in Oramed Pharmaceuticals Inc. (NASDAQ:ORMP) by 4.4% in the second quarter, according to the company in its most recent Form 13F filing with the Securities & Exchange Commission. The institutional investor owned 14,725 shares of the biotechnology company's stock after buying an additional 625 shares during the quarter. Wells Fargo & Company MN owned 0.11% of Oramed Pharmaceuticals worth $114,000 at the end of the most recent quarter. Hedge funds and other institutional investors own 1.34% of the company's stock.
Oramed Pharmaceuticals Company Profile
Oramed Pharmaceuticals Inc (Oramed) is engaged in the field of oral delivery solutions for drugs and vaccines presently delivered via injection. Oramed's flagship product, an orally ingestible insulin capsule in phase II clinical trials, is focused on the treatment of diabetes. The Company is developing orally ingestible protein oral delivery (POD) technology for the delivery of drugs presently administered by way of injection.
Get a free copy of the Zacks research report on Oramed Pharmaceuticals (ORMP)
For more information about research offerings from Zacks Investment Research, visit Zacks.com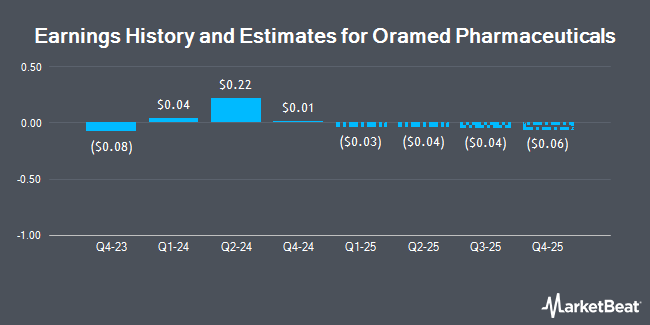 Receive News & Ratings for Oramed Pharmaceuticals Inc. Daily - Enter your email address below to receive a concise daily summary of the latest news and analysts' ratings for Oramed Pharmaceuticals Inc. and related companies with MarketBeat.com's FREE daily email newsletter.