Prologis, Inc. (PLD) to Release Earnings on Wednesday
Prologis, Inc. (NYSE:PLD) is scheduled to post its quarterly earnings results before the market opens on Wednesday, October 18th. Prologis has set its FY17 guidance at $2.78-2.82 EPS.
Prologis (NYSE:PLD) last posted its earnings results on Tuesday, July 18th. The real estate investment trust reported $0.84 EPS for the quarter, topping analysts' consensus estimates of $0.78 by $0.06. Prologis had a net margin of 43.99% and a return on equity of 6.65%. The business had revenue of $766.18 million for the quarter, compared to analysts' expectations of $576.00 million. During the same period in the previous year, the company posted $0.60 earnings per share. The business's revenue for the quarter was up 27.2% compared to the same quarter last year. On average, analysts expect Prologis to post $-0.27 EPS for the current fiscal year and $1.56 EPS for the next fiscal year.
Prologis, Inc. (PLD) opened at 64.72 on Wednesday. The firm has a market capitalization of $34.42 billion, a PE ratio of 29.05 and a beta of 0.92. The stock's 50 day moving average is $63.78 and its 200-day moving average is $58.65. Prologis, Inc. has a 52-week low of $45.93 and a 52-week high of $65.54.
The business also recently declared a quarterly dividend, which was paid on Friday, September 29th. Shareholders of record on Monday, September 18th were issued a dividend of $0.44 per share. The ex-dividend date of this dividend was Friday, September 15th. This represents a $1.76 annualized dividend and a yield of 2.72%. Prologis's dividend payout ratio (DPR) is presently 79.28%.
COPYRIGHT VIOLATION WARNING: This story was first posted by American Banking News and is the property of of American Banking News. If you are reading this story on another site, it was illegally copied and reposted in violation of United States and international trademark & copyright legislation. The original version of this story can be accessed at https://www.americanbankingnews.com/2017/10/11/prologis-inc-pld-to-release-earnings-on-wednesday.html.
Several brokerages have commented on PLD. KeyCorp reiterated a "buy" rating and set a $65.00 price target on shares of Prologis in a report on Friday, September 29th. BTIG Research reiterated a "buy" rating and set a $68.00 price target (up previously from $62.00) on shares of Prologis in a report on Wednesday, September 27th. BidaskClub upgraded Prologis from a "hold" rating to a "buy" rating in a report on Tuesday, August 1st. Jefferies Group LLC reiterated a "hold" rating and set a $66.00 price target (up previously from $59.00) on shares of Prologis in a report on Thursday, August 24th. Finally, Stifel Nicolaus reiterated a "buy" rating and set a $65.00 price target on shares of Prologis in a report on Thursday, September 21st. Four equities research analysts have rated the stock with a hold rating, twelve have issued a buy rating and one has assigned a strong buy rating to the stock. The stock has an average rating of "Buy" and a consensus price target of $61.69.
In other news, Director Carl B. Webb sold 20,000 shares of the stock in a transaction that occurred on Friday, July 28th. The stock was sold at an average price of $61.38, for a total value of $1,227,600.00. Following the completion of the sale, the director now directly owns 66,078 shares of the company's stock, valued at $4,055,867.64. The transaction was disclosed in a document filed with the Securities & Exchange Commission, which can be accessed through this hyperlink. 1.31% of the stock is currently owned by corporate insiders.
Prologis Company Profile
Prologis, Inc is a real estate investment trust (REIT) company. The Company is engaged in logistics real estate business. The Company's segments include Real Estate Operations and Strategic Capital. The Real estate operations segment consists of rental operations and development. The Company's strategic capital segment includes asset management services, as well as services performed for unconsolidated co-investment ventures.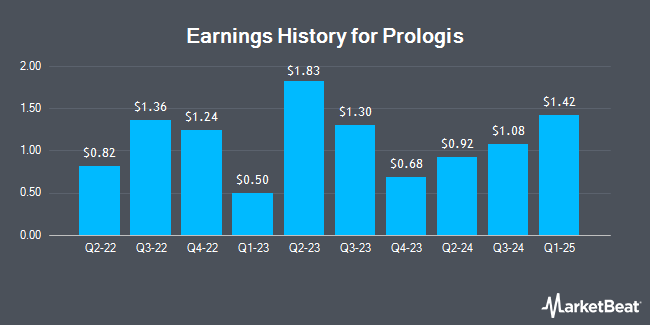 Receive News & Ratings for Prologis Inc. Daily - Enter your email address below to receive a concise daily summary of the latest news and analysts' ratings for Prologis Inc. and related companies with MarketBeat.com's FREE daily email newsletter.