Valeo S.A. (VLEEY) Given Consensus Rating of "Hold" by Brokerages
Shares of Valeo S.A. (OTCMKTS:VLEEY) have received a consensus rating of "Hold" from the seven ratings firms that are covering the company, MarketBeat Ratings reports. One analyst has rated the stock with a sell rating, three have given a hold rating and three have issued a buy rating on the company. The average 12-month target price among analysts that have issued ratings on the stock in the last year is $41.00.
Separately, Zacks Investment Research upgraded Valeo from a "hold" rating to a "buy" rating and set a $41.00 price target for the company in a report on Wednesday, September 27th.
WARNING: This piece was first published by American Banking News and is the property of of American Banking News. If you are reading this piece on another domain, it was copied illegally and reposted in violation of United States & international copyright and trademark laws. The legal version of this piece can be accessed at https://www.americanbankingnews.com/2017/10/11/valeo-s-a-vleey-given-consensus-rating-of-hold-by-brokerages.html.
Shares of Valeo (VLEEY) traded up 1.39% during trading on Wednesday, reaching $37.67. 14,562 shares of the company's stock traded hands. The stock has a market capitalization of $17.96 billion, a PE ratio of 14.93 and a beta of 1.56. The company has a 50 day moving average price of $35.81 and a 200 day moving average price of $34.98. Valeo has a 1-year low of $26.33 and a 1-year high of $37.67.
About Valeo
Valeo SA is an automotive supplier. The Company is a technology company, which is focused on the design, production and sale of components, integrated systems, modules and services for the automotive sector. Its segments include Comfort & Driving Assistance Systems, Powertrain Systems, Thermal Systems and Visibility Systems.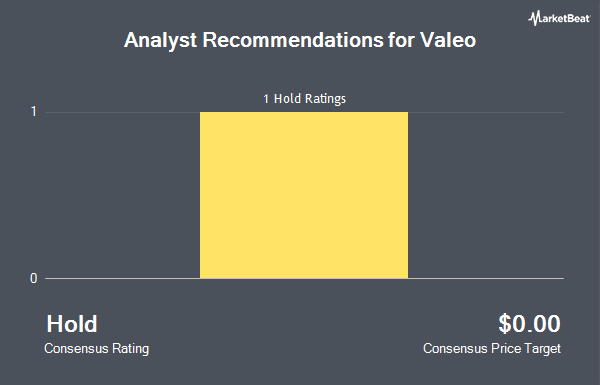 Receive News & Ratings for Valeo S.A. Daily - Enter your email address below to receive a concise daily summary of the latest news and analysts' ratings for Valeo S.A. and related companies with MarketBeat.com's FREE daily email newsletter.