Maximus, Inc. Announces Quarterly Dividend of $0.05 (MMS)
Maximus, Inc. (NYSE:MMS) announced a quarterly dividend on Thursday, October 12th, RTT News reports. Stockholders of record on Wednesday, November 15th will be paid a dividend of 0.045 per share by the health services provider on Thursday, November 30th. This represents a $0.18 dividend on an annualized basis and a dividend yield of 0.28%.
Maximus has a dividend payout ratio of 5.8% indicating that its dividend is sufficiently covered by earnings. Analysts expect Maximus to earn $3.22 per share next year, which means the company should continue to be able to cover its $0.18 annual dividend with an expected future payout ratio of 5.6%.
Shares of Maximus (NYSE MMS) traded up 0.35% during mid-day trading on Thursday, hitting $65.60. The stock had a trading volume of 11,568 shares. The stock's 50-day moving average is $62.92 and its 200-day moving average is $61.92. Maximus has a 1-year low of $43.69 and a 1-year high of $66.38. The firm has a market capitalization of $4.26 billion, a PE ratio of 21.03 and a beta of 1.36.
Maximus (NYSE:MMS) last posted its quarterly earnings data on Thursday, August 3rd. The health services provider reported $0.79 EPS for the quarter, topping the Zacks' consensus estimate of $0.76 by $0.03. The company had revenue of $600.40 million for the quarter, compared to analyst estimates of $614.12 million. Maximus had a return on equity of 25.08% and a net margin of 8.43%. The firm's quarterly revenue was down 2.7% on a year-over-year basis. During the same period in the previous year, the firm earned $0.79 earnings per share. Equities analysts expect that Maximus will post $3.13 earnings per share for the current year.
TRADEMARK VIOLATION NOTICE: This article was originally posted by American Banking News and is the property of of American Banking News. If you are reading this article on another domain, it was stolen and republished in violation of United States and international copyright and trademark law. The original version of this article can be read at https://www.americanbankingnews.com/2017/10/12/maximus-inc-announces-quarterly-dividend-of-0-05-mms.html.
In other news, President Bruce Caswell sold 8,000 shares of the business's stock in a transaction that occurred on Thursday, August 10th. The stock was sold at an average price of $59.83, for a total transaction of $478,640.00. Following the completion of the sale, the president now owns 35,904 shares in the company, valued at $2,148,136.32. The transaction was disclosed in a filing with the SEC, which is available at this hyperlink. Also, General Counsel David Francis sold 1,000 shares of the business's stock in a transaction that occurred on Friday, July 14th. The shares were sold at an average price of $60.46, for a total value of $60,460.00. Following the sale, the general counsel now owns 15,715 shares of the company's stock, valued at approximately $950,128.90. The disclosure for this sale can be found here. Over the last quarter, insiders sold 152,403 shares of company stock valued at $9,414,501. 3.10% of the stock is currently owned by corporate insiders.
MMS has been the topic of a number of recent analyst reports. Robert W. Baird initiated coverage on Maximus in a research note on Sunday, September 3rd. They issued a "neutral" rating on the stock. Canaccord Genuity lowered Maximus from a "buy" rating to a "hold" rating and set a $62.00 price objective on the stock. in a research note on Tuesday, July 4th. BidaskClub lowered Maximus from a "strong-buy" rating to a "buy" rating in a research note on Thursday, July 6th. Zacks Investment Research lowered Maximus from a "hold" rating to a "sell" rating in a research note on Tuesday, July 18th. Finally, Maxim Group set a $66.00 price objective on Maximus and gave the stock a "hold" rating in a research note on Thursday, August 3rd. One investment analyst has rated the stock with a sell rating and nine have issued a hold rating to the company. The stock currently has an average rating of "Hold" and an average target price of $63.14.
Maximus Company Profile
MAXIMUS, Inc provides business process services (BPS) to government health and human services agencies. The Company operates through three segments: U.S. Federal Services, Health Services and Human Services. The U.S. Federal Services segment provides BPS and program management for large government programs, independent health review and appeals services for both the United States Federal Government, and state-based programs and technology solutions for civilian federal programs.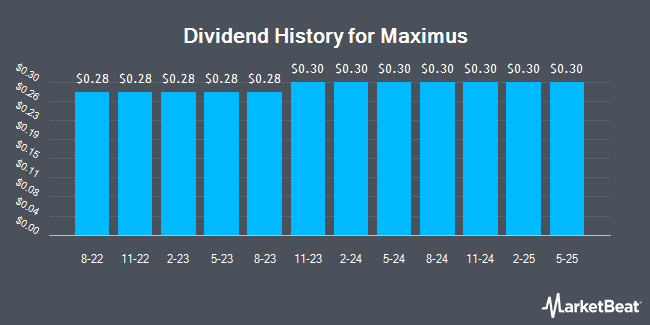 Receive News & Ratings for Maximus Inc. Daily - Enter your email address below to receive a concise daily summary of the latest news and analysts' ratings for Maximus Inc. and related companies with MarketBeat.com's FREE daily email newsletter.