Trinseo S.A. (TSE) Issues FY17 Earnings Guidance
Trinseo S.A. (NYSE:TSE) issued an update on its FY17 earnings guidance on Thursday morning. The company provided EPS guidance of $7.59-7.77 for the period, compared to the Thomson Reuters consensus EPS estimate of $6.83. Trinseo also updated its Q3 guidance to $2.15-2.27 EPS.
Shares of Trinseo S.A. (NYSE:TSE) traded up 1.50% during midday trading on Thursday, hitting $67.60. 403,324 shares of the stock were exchanged. Trinseo S.A. has a 52-week low of $44.70 and a 52-week high of $72.60. The stock has a market cap of $2.96 billion, a P/E ratio of 9.58 and a beta of 2.37. The firm's 50 day moving average price is $67.18 and its 200-day moving average price is $66.13.
Trinseo (NYSE:TSE) last posted its quarterly earnings results on Wednesday, August 2nd. The basic materials company reported $1.39 EPS for the quarter, missing the Zacks' consensus estimate of $1.80 by ($0.41). Trinseo had a return on equity of 67.05% and a net margin of 7.88%. The business had revenue of $1.15 billion during the quarter, compared to analysts' expectations of $1.08 billion. During the same period in the prior year, the firm posted $2.30 earnings per share. The firm's revenue for the quarter was up 18.0% on a year-over-year basis. On average, equities research analysts expect that Trinseo S.A. will post $6.89 earnings per share for the current fiscal year.
The firm also recently declared a quarterly dividend, which will be paid on Tuesday, October 24th. Investors of record on Tuesday, October 10th will be issued a $0.36 dividend. The ex-dividend date of this dividend is Friday, October 6th. This represents a $1.44 dividend on an annualized basis and a yield of 2.13%. Trinseo's dividend payout ratio is presently 20.34%.
Trinseo declared that its board has approved a share buyback program on Thursday, June 22nd that allows the company to repurchase 2,000,000 outstanding shares. This repurchase authorization allows the basic materials company to repurchase shares of its stock through open market purchases. Shares repurchase programs are generally an indication that the company's management believes its shares are undervalued.
A number of research analysts recently commented on the company. Zacks Investment Research raised Trinseo from a hold rating to a buy rating and set a $77.00 price target on the stock in a report on Wednesday. Jefferies Group LLC reissued a buy rating and issued a $82.00 price target on shares of Trinseo in a report on Friday, October 6th. Alembic Global Advisors reissued a buy rating on shares of Trinseo in a report on Tuesday, September 5th. ValuEngine raised Trinseo from a buy rating to a strong-buy rating in a report on Friday, September 1st. Finally, BidaskClub raised Trinseo from a sell rating to a hold rating in a report on Thursday, August 24th. Three investment analysts have rated the stock with a hold rating, four have issued a buy rating and one has assigned a strong buy rating to the company. The stock has an average rating of Buy and a consensus price target of $74.80.
In other news, Director Jeffrey J. Cote sold 5,000 shares of the company's stock in a transaction that occurred on Wednesday, August 30th. The stock was sold at an average price of $65.01, for a total transaction of $325,050.00. Following the sale, the director now directly owns 15,640 shares of the company's stock, valued at approximately $1,016,756.40. The sale was disclosed in a legal filing with the Securities & Exchange Commission, which can be accessed through this hyperlink. Also, insider Christopher D. Pappas sold 25,000 shares of the company's stock in a transaction that occurred on Tuesday, September 5th. The stock was sold at an average price of $68.50, for a total value of $1,712,500.00. Following the sale, the insider now directly owns 265,240 shares in the company, valued at $18,168,940. The disclosure for this sale can be found here. Insiders have sold a total of 60,399 shares of company stock worth $4,177,335 over the last ninety days. Insiders own 0.65% of the company's stock.
ILLEGAL ACTIVITY NOTICE: This article was originally posted by American Banking News and is owned by of American Banking News. If you are viewing this article on another site, it was illegally copied and republished in violation of U.S. & international copyright and trademark legislation. The correct version of this article can be viewed at https://www.americanbankingnews.com/2017/10/12/trinseo-s-a-tse-issues-fy17-earnings-guidance.html.
About Trinseo
Trinseo SA is a materials company engaged in the manufacture and marketing of synthetic rubber, latex and plastics. The Company's segments include Latex Binders, Synthetic Rubber, Performance Plastics, Basic Plastics, Feedstocks and Americas Styrenics. The Latex Binders segment produces styrene-butadiene latex (SB latex) and other latex polymers and binders.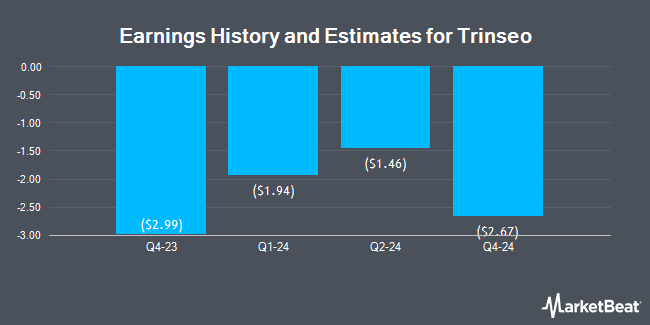 Receive News & Ratings for Trinseo S.A. Daily - Enter your email address below to receive a concise daily summary of the latest news and analysts' ratings for Trinseo S.A. and related companies with MarketBeat.com's FREE daily email newsletter.