Berenberg Bank Begins Coverage on Countrywide PLC (CWD)
Investment analysts at Berenberg Bank assumed coverage on shares of Countrywide PLC (LON:CWD) in a note issued to investors on Thursday, MarketBeat reports. The firm set a "sell" rating and a GBX 95 ($1.25) price target on the stock. Berenberg Bank's target price indicates a potential downside of 17.39% from the stock's previous close.
Other analysts also recently issued reports about the stock. Jefferies Group LLC reiterated a "hold" rating and issued a GBX 150 ($1.97) target price on shares of Countrywide PLC in a report on Friday, July 28th. Peel Hunt reiterated a "reduce" rating and issued a GBX 165 ($2.17) target price on shares of Countrywide PLC in a report on Thursday, June 22nd. Finally, Credit Suisse Group downgraded shares of Countrywide PLC to an "underperform" rating and dropped their target price for the stock from GBX 288 ($3.79) to GBX 111 ($1.46) in a report on Monday, September 25th. Four equities research analysts have rated the stock with a sell rating and four have issued a hold rating to the company's stock. The company presently has a consensus rating of "Hold" and an average price target of GBX 144.25 ($1.90).
Countrywide PLC (LON:CWD) traded up 0.44% during mid-day trading on Thursday, hitting GBX 115.00. 610,357 shares of the stock traded hands. The firm's market cap is GBX 273.62 million. Countrywide PLC has a 12-month low of GBX 105.25 and a 12-month high of GBX 231.97. The stock has a 50 day moving average price of GBX 123.91 and a 200 day moving average price of GBX 152.13.
TRADEMARK VIOLATION WARNING: "Berenberg Bank Begins Coverage on Countrywide PLC (CWD)" was originally posted by American Banking News and is owned by of American Banking News. If you are viewing this article on another publication, it was illegally stolen and reposted in violation of United States & international trademark and copyright legislation. The original version of this article can be viewed at https://www.americanbankingnews.com/2017/10/15/berenberg-bank-begins-coverage-on-countrywide-plc-cwd.html.
In other news, insider Himanshu Raja bought 10,592 shares of the company's stock in a transaction dated Wednesday, September 6th. The shares were acquired at an average cost of GBX 135 ($1.77) per share, with a total value of £14,299.20 ($18,799.89). Insiders purchased a total of 100,335 shares of company stock worth $13,545,024 over the last quarter.
About Countrywide PLC
Countrywide plc, together with its subsidiaries, provides residential estate agency and property services in the United Kingdom. It operates through four segments: Retail, London, Financial Services, and B2B. The company offers surveying services, including valuation panel management services, residential valuations, and surveys for mortgage lenders; leasehold, commercial, relocation, and residential property management services; and sells residential, commercial, industrial, and agricultural properties, as well as land through public auction.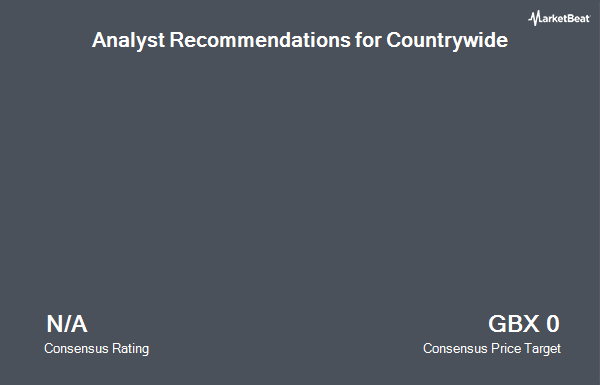 Receive News & Ratings for Countrywide PLC Daily - Enter your email address below to receive a concise daily summary of the latest news and analysts' ratings for Countrywide PLC and related companies with MarketBeat.com's FREE daily email newsletter.