Equities Analysts Issue Forecasts for Pretium Resources Inc's Q3 2017 Earnings (PVG)
Pretium Resources Inc (TSE:PVG) (NYSE:PVG) – Investment analysts at Cormark increased their Q3 2017 earnings per share (EPS) estimates for Pretium Resources in a note issued to investors on Thursday. Cormark analyst R. Gray now expects that the company will post earnings per share of $0.15 for the quarter, up from their prior estimate of $0.03. Cormark also issued estimates for Pretium Resources' Q4 2017 earnings at $0.21 EPS, FY2017 earnings at $0.30 EPS and Q4 2018 earnings at $0.43 EPS.
PVG has been the topic of a number of other research reports. Scotiabank upgraded shares of Pretium Resources from a "sector perform" rating to an "outperform" rating and lifted their price target for the stock from C$16.50 to C$17.00 in a research note on Thursday. Numis Securities Ltd decreased their price target on shares of Pretium Resources from C$20.00 to C$18.00 in a research note on Monday, September 25th. BMO Capital Markets reiterated an "outperform" rating and set a C$19.50 price target on shares of Pretium Resources in a research note on Wednesday, July 5th. Finally, CIBC lifted their price target on shares of Pretium Resources from C$15.75 to C$18.00 and gave the stock an "outperform" rating in a research note on Friday. Six analysts have rated the stock with a buy rating, The stock currently has an average rating of "Buy" and an average price target of C$18.00.
TRADEMARK VIOLATION NOTICE: This story was originally posted by American Banking News and is the sole property of of American Banking News. If you are accessing this story on another domain, it was illegally copied and reposted in violation of U.S. and international trademark & copyright law. The correct version of this story can be read at https://www.americanbankingnews.com/2017/10/16/equities-analysts-issue-forecasts-for-pretium-resources-incs-q3-2017-earnings-pvg.html.
Pretium Resources (PVG) opened at 14.98 on Monday. The firm's 50-day moving average is $11.35 and its 200-day moving average is $12.18. Pretium Resources has a 1-year low of $9.17 and a 1-year high of $16.48. The company's market capitalization is $2.72 billion.
In other news, Director George Nickolas Paspalas sold 50,000 shares of the business's stock in a transaction on Thursday, October 12th. The shares were sold at an average price of C$15.33, for a total value of C$766,500.00. Also, Director Robert Allan Quartermain bought 22,800 shares of Pretium Resources stock in a transaction dated Thursday, September 7th. The stock was purchased at an average price of C$10.52 per share, for a total transaction of C$239,856.00.
Pretium Resources Company Profile
Pretium Resources Inc is a Canada-based exploration and development company. The Company is engaged in the acquisition, exploration and development of precious metal resource properties in the Americas. The Company's projects include Brucejack Project and the Snowfield Project, both of which are located in northwestern British Columbia.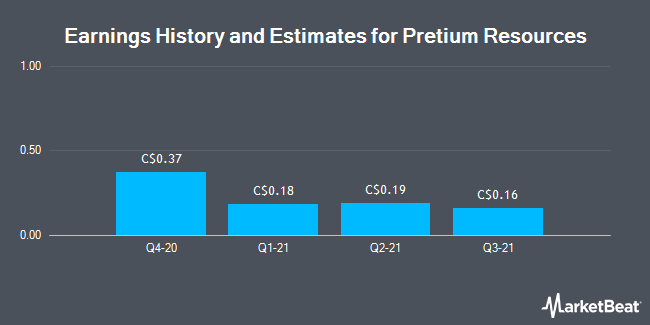 Receive News & Ratings for Pretium Resources Inc Daily - Enter your email address below to receive a concise daily summary of the latest news and analysts' ratings for Pretium Resources Inc and related companies with MarketBeat.com's FREE daily email newsletter.