Badger Daylighting Ltd (BAD) Insider Elizabeth Peterson Buys 670 Shares
Badger Daylighting Ltd (TSE:BAD) insider Elizabeth Peterson purchased 670 shares of the firm's stock in a transaction that occurred on Friday, October 13th. The shares were acquired at an average cost of C$22.37 per share, with a total value of C$14,987.90.
Shares of Badger Daylighting Ltd (TSE:BAD) traded up 1.64% during midday trading on Tuesday, hitting $28.59. The company had a trading volume of 86,455 shares. Badger Daylighting Ltd has a 12 month low of $21.51 and a 12 month high of $36.22. The company has a 50-day moving average of $27.22 and a 200-day moving average of $27.76. The company has a market capitalization of $1.06 billion and a PE ratio of 28.14.
The company also recently declared a monthly dividend, which was paid on Monday, October 16th. Stockholders of record on Saturday, September 30th were given a dividend of $0.038 per share. The ex-dividend date of this dividend was Thursday, September 28th. This represents a $0.46 annualized dividend and a dividend yield of 1.59%.
TRADEMARK VIOLATION NOTICE: "Badger Daylighting Ltd (BAD) Insider Elizabeth Peterson Buys 670 Shares" was originally published by American Banking News and is owned by of American Banking News. If you are accessing this story on another website, it was illegally copied and republished in violation of United States and international copyright laws. The correct version of this story can be viewed at https://www.americanbankingnews.com/2017/10/17/badger-daylighting-ltd-bad-insider-elizabeth-peterson-buys-670-shares.html.
Separately, Industrial Alliance Securities raised their price target on Badger Daylighting from C$36.00 to C$37.00 and gave the stock a "strong-buy" rating in a research note on Monday.
Badger Daylighting Company Profile
Badger Daylighting Ltd. (Badger) is a provider of non-destructive excavating services. The Company works for contractors and facility owners in the utility and petroleum industries. The Company operates in three divisions: rents and sells various lines of trench shielding used to shore and strengthen trenches dug for a range of purposes; provides sewer inspection services and limited sewer flush services, and provides general vacuum truck and auxiliary services to the oil and gas industry, focusing primarily on production tank cleaning and removal of waste oil and sand.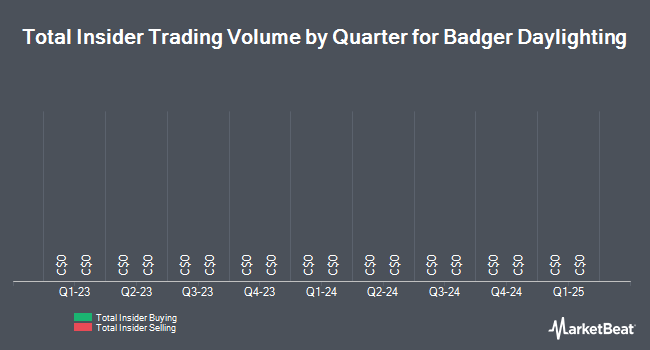 Receive News & Ratings for Badger Daylighting Ltd Daily - Enter your email address below to receive a concise daily summary of the latest news and analysts' ratings for Badger Daylighting Ltd and related companies with MarketBeat.com's FREE daily email newsletter.