Employers Holdings Inc (EIG) to Release Quarterly Earnings on Tuesday
Employers Holdings Inc (NYSE:EIG) is set to issue its quarterly earnings data after the market closes on Tuesday, October 24th. Analysts expect the company to announce earnings of $0.57 per share for the quarter.
Employers Holdings (NYSE:EIG) last released its earnings results on Wednesday, July 26th. The financial services provider reported $0.60 earnings per share (EPS) for the quarter, beating the Zacks' consensus estimate of $0.55 by $0.05. Employers Holdings had a net margin of 13.72% and a return on equity of 10.25%. The company had revenue of $191.10 million for the quarter, compared to the consensus estimate of $194.78 million. On average, analysts expect Employers Holdings to post $2.33 EPS for the current fiscal year and $2.35 EPS for the next fiscal year.
Employers Holdings Inc (EIG) opened at 47.20 on Tuesday. The company's 50 day moving average is $43.39 and its 200-day moving average is $41.67. The firm has a market cap of $1.53 billion, a P/E ratio of 14.61 and a beta of 1.12. Employers Holdings Inc has a 52-week low of $29.55 and a 52-week high of $47.25.
ILLEGAL ACTIVITY NOTICE: This story was posted by American Banking News and is owned by of American Banking News. If you are viewing this story on another publication, it was illegally stolen and republished in violation of U.S. & international trademark & copyright law. The correct version of this story can be viewed at https://www.americanbankingnews.com/2017/10/17/employers-holdings-inc-eig-to-release-quarterly-earnings-on-tuesday.html.
Several research firms recently weighed in on EIG. BidaskClub cut shares of Employers Holdings from a "buy" rating to a "hold" rating in a report on Monday, July 31st. Zacks Investment Research upgraded shares of Employers Holdings from a "hold" rating to a "buy" rating and set a $49.00 price target on the stock in a report on Monday, July 31st. One analyst has rated the stock with a sell rating, three have given a hold rating and one has assigned a buy rating to the company. The stock presently has an average rating of "Hold" and an average price target of $42.00.
About Employers Holdings
Employers Holdings, Inc is a holding company. Through its insurance subsidiaries, the Company provides workers' compensation insurance coverage to select, small businesses in low to medium hazard industries. It provides workers' compensation insurance under a statutory system wherein employers are required to provide coverage for their employees' medical, disability, vocational rehabilitation, and/or death benefit costs for work-related injuries or illnesses.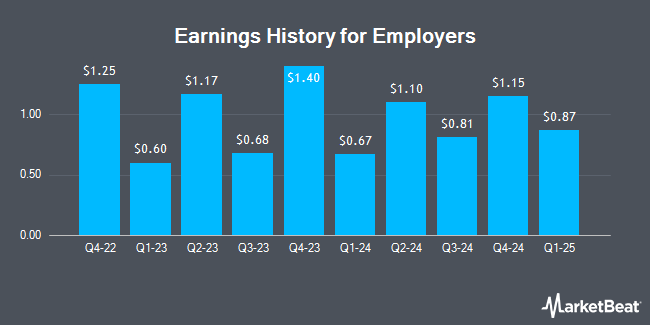 Receive News & Ratings for Employers Holdings Inc Daily - Enter your email address below to receive a concise daily summary of the latest news and analysts' ratings for Employers Holdings Inc and related companies with MarketBeat.com's FREE daily email newsletter.