eBay Inc. (EBAY) Announces Earnings Results
eBay Inc. (NASDAQ:EBAY) posted its earnings results on Wednesday. The e-commerce company reported $0.48 earnings per share for the quarter, meeting analysts' consensus estimates of $0.48, Briefing.com reports. eBay had a return on equity of 17.50% and a net margin of 80.93%. The company had revenue of $2.41 billion for the quarter, compared to the consensus estimate of $2.37 billion. During the same quarter in the prior year, the company earned $0.45 earnings per share. eBay's revenue was up 8.7% on a year-over-year basis. eBay updated its Q4 guidance to $0.57-0.59 EPS.
eBay (NASDAQ EBAY) traded up 1.28% during mid-day trading on Wednesday, reaching $37.97. The company's stock had a trading volume of 16,115,745 shares. The stock's 50 day moving average is $37.84 and its 200 day moving average is $35.51. The firm has a market cap of $40.64 billion, a PE ratio of 5.70 and a beta of 1.36. eBay has a one year low of $27.28 and a one year high of $39.28.
A number of research analysts have weighed in on EBAY shares. Robert W. Baird reissued an "outperform" rating on shares of eBay in a report on Monday, July 3rd. UBS AG set a $40.00 target price on eBay and gave the company a "buy" rating in a report on Friday, July 21st. Wells Fargo & Company reissued an "outperform" rating and issued a $45.00 target price on shares of eBay in a report on Tuesday, September 26th. TheStreet downgraded eBay from a "b-" rating to a "c+" rating in a report on Friday, July 14th. Finally, BidaskClub raised eBay from a "buy" rating to a "strong-buy" rating in a report on Thursday, July 13th. Three analysts have rated the stock with a sell rating, twenty-one have assigned a hold rating and eighteen have given a buy rating to the company. The stock currently has a consensus rating of "Hold" and a consensus target price of $37.80.
eBay announced that its board has authorized a stock buyback plan on Thursday, July 20th that permits the company to buyback $3.00 billion in outstanding shares. This buyback authorization permits the e-commerce company to reacquire up to 7.5% of its stock through open market purchases. Stock buyback plans are generally an indication that the company's board believes its shares are undervalued.
In other news, Director Robert Holmes Swan sold 25,000 shares of eBay stock in a transaction dated Thursday, September 7th. The stock was sold at an average price of $37.51, for a total transaction of $937,750.00. Following the sale, the director now owns 262,119 shares in the company, valued at $9,832,083.69. The transaction was disclosed in a legal filing with the Securities & Exchange Commission, which can be accessed through the SEC website. Also, SVP Harry A. Lawton III sold 34,832 shares of eBay stock in a transaction dated Monday, August 14th. The stock was sold at an average price of $35.00, for a total value of $1,219,120.00. Following the sale, the senior vice president now owns 83,058 shares in the company, valued at approximately $2,907,030. The disclosure for this sale can be found here. Insiders have sold 95,238 shares of company stock worth $3,439,297 in the last quarter. Insiders own 6.78% of the company's stock.
TRADEMARK VIOLATION NOTICE: This news story was first published by American Banking News and is the property of of American Banking News. If you are viewing this news story on another publication, it was illegally stolen and republished in violation of U.S. & international copyright law. The legal version of this news story can be read at https://www.americanbankingnews.com/2017/10/18/ebay-inc-ebay-announces-earnings-results.html.
About eBay
eBay Inc (eBay) is a commerce company, which operates through its Marketplace, StubHub and Classifieds platforms. The Company connects buyers and sellers around the world. Its platforms enable sellers around the world to organize and offer their inventory for sale, and buyers to find and purchase it.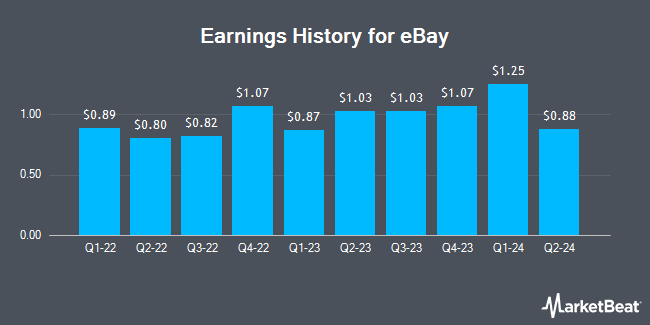 Receive News & Ratings for eBay Inc. Daily - Enter your email address below to receive a concise daily summary of the latest news and analysts' ratings for eBay Inc. and related companies with MarketBeat.com's FREE daily email newsletter.