Desjardins Reiterates "Buy" Rating for TSO3 Inc. (TOS)
TSO3 Inc. (TSE:TOS)'s stock had its "buy" rating reaffirmed by Desjardins in a research note issued on Wednesday. They currently have a C$4.00 price objective on the stock. Desjardins' target price would indicate a potential upside of 53.26% from the stock's previous close.
Other equities analysts also recently issued reports about the company. Scotiabank restated an "outperform" rating and issued a C$4.50 target price on shares of TSO3 in a research note on Thursday, July 6th. Canaccord Genuity restated a "buy" rating and issued a C$5.25 target price on shares of TSO3 in a research note on Monday, June 26th. Five equities research analysts have rated the stock with a buy rating, TSO3 has a consensus rating of "Buy" and an average target price of C$4.70.
TSO3 (TSE:TOS) traded up 2.68% on Wednesday, hitting $2.68. The stock had a trading volume of 31,094 shares. The company's 50 day moving average is $2.63 and its 200 day moving average is $2.90. TSO3 has a 12-month low of $2.05 and a 12-month high of $3.69. The firm's market cap is $248.55 million.
TRADEMARK VIOLATION WARNING: "Desjardins Reiterates "Buy" Rating for TSO3 Inc. (TOS)" was posted by American Banking News and is the property of of American Banking News. If you are accessing this piece of content on another domain, it was illegally stolen and reposted in violation of international copyright legislation. The correct version of this piece of content can be viewed at https://www.americanbankingnews.com/2017/10/18/tso3-inc-tos-given-a-c4-00-price-target-by-desjardins-analysts.html.
In other TSO3 news, Director Richard Mark Rumble acquired 22,000 shares of TSO3 stock in a transaction dated Wednesday, August 23rd. The stock was acquired at an average cost of C$2.23 per share, for a total transaction of C$49,060.00.
TSO3 Company Profile
TSO3 Inc is a Canada-based company engaged in the sale, production, maintenance, research, development and licensing of sterilization processes, related consumable supplies and accessories for heat-sensitive medical devices. The Company designs products for sterile processing areas in the hospital environment.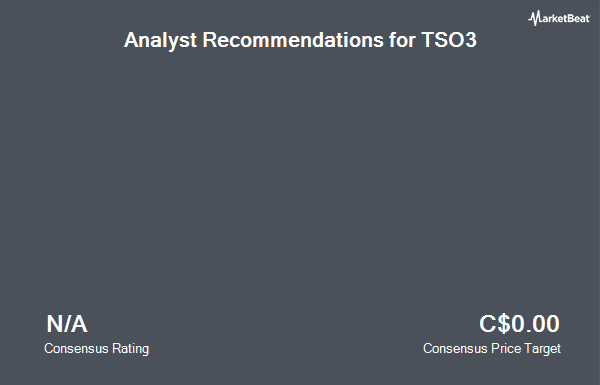 Receive News & Ratings for TSO3 Inc. Daily - Enter your email address below to receive a concise daily summary of the latest news and analysts' ratings for TSO3 Inc. and related companies with MarketBeat.com's FREE daily email newsletter.